From tomatoes to cannabis: Village Farms International Inc.'s (TSX:VFF) extensive experience in cultivation should provide them with an edge over their competitors
SmallCapPower | June 27, 2019: Village Farms International Inc. (TSX:VFF) is one of the largest producers of premium quality greenhouse tomatoes, bell peppers, and cucumbers in North America. The Company uses hydroponic growing methods in glass-enclosed facilities to grow its premium-quality products. VFF has six greenhouses covering 9.2M sq. ft. In the past couple of years, Village Farms has made moves into the cannabis space by forming joint ventures (JV) with Emerald Health Therapeutics and Nature Crisp LLC to form "Pure Sunfarms Corporation" and "Village Fields Hemp USA LLC," respectively. The Pure Sunfarms Facility received its Health Canada sales license on July 30, 2018. In February 2019, the Company announced that Pure Sunfarms Corporation was selected by the Ontario Cannabis Retail Corporation (OCRC) to supply the Ontario Cannabis Store with Pure Sunfarms-branded cannabis products for the non-medical market in the Province of Ontario. The Company's strategy focuses on forging strong customer relationships by servicing retailers on a year-round basis and maintaining the highest standards of product safety. Village Farms International operates its greenhouse facilities in British Columbia and Texas.
For Our Complete Coverage Of Canadian Marijuana Stocks Click Here       
Investment Thesis
Village Farms International boasts extensive experience in cultivation and farming at scale. For approximately 30 years, Village Farms has been supplying major retailers with vegetables (tomatoes, cucumbers, and bell pepper) while maintain strict Health Canada quality requirement for perishable produce. For reference, most of Village Farms International's competitors don't even have five years of relevant experience. As supply of cannabis increases over time, the selling price of cannabis is expected to diminish, decreasing margins on the product. These lower margins are expected to cause LPs to vigorously compete for efficiency. This gives Village Farms International an advantage, as its extensive experience in cultivation should provide them with an edge over their competitors, which should likely take longer to develop efficient cultivation practices and may be forced to rely on growing consultants.
Pure Sunfarms Greenhouse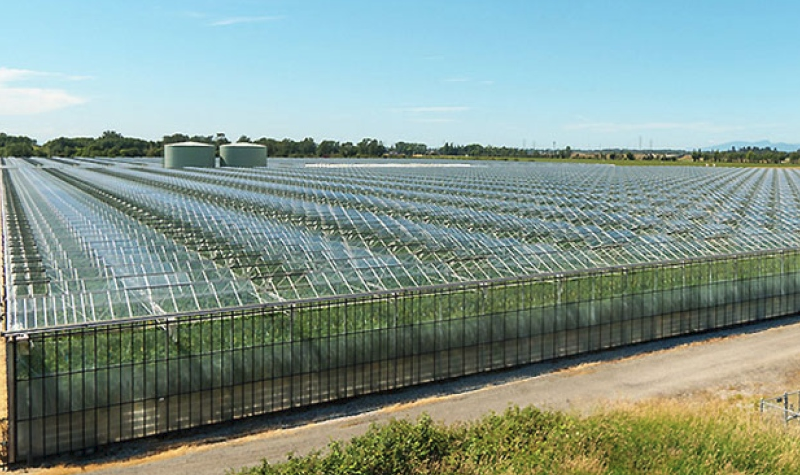 Source: Company Reports
Pure Sunfarms Corporation has the potential to be one of the lowest cost producers. Management estimates it can achieve costs of less than $1 per gram. Sunfarms has many indicators that lead us to believe that it could be one of the lowest cost producers for the following reasons:
An experienced and efficient workforce: Pure Sunfarms uses primarily Village Farms' experienced workforce, while keeping new employees to a minimum. Hiring, training, and turnover is limited at Pure Sunfarms, thereby minimizing costs associated with new employees and increasing operational efficiency.
Lower hydro rates in BC compared with Ontario: Village Farms International has formed a relationship with BC Hydro, which was leveraged to secure 48MW of power to fuel its lighting infrastructure. This has allowed Pure Sunfarms to secure rates under $0.10 per kWh, relative to companies in Ontario, which pay on average $0.16 per kWh, according to the Fraser Institute.
Better environment for growing cannabis than Ontario: The Vancouver Delta region has much more dependable weather than Ontario, leading to less variation in temperature throughout the year. Cooler summers and warmer winters result in less power requirements to operate a greenhouse in the Vancouver region.
Automation: Village Farms has integrated automation into its growing and post-harvest processes, which is expected to reduce OPEX costs. The automation process includes assembly-line-type technology, which move plants throughout the facility as they mature from seedling to harvest ready. The post-harvest process features automated trimming machines.
Pure Sunfarms has hedged its risk of operating in the cannabis market. Despite the favourable upside that the cannabis market seemingly presents, there are a variety of risks imposed on Canadian licensed cultivators that could hinder their opportunity to thrive off this growing opportunity. These risks include the risk that medical studies don't support different types of cannabis usage, deteriorating margins, regulatory risks, and many others.
Village Farms International should be better equipped for these than most LPs due to their diverse cultivation operations, which includes the growing of tomatoes, bell pepper, and cucumbers. Should their venture into the cannabis space miss expectations and have an adverse impact on their earnings, the Company is well equipped to potentially transition their cannabis cultivation operations to focus on produce that they have been growing for many years. Many cannabis cultivators focus solely on the cultivation of cannabis, which makes them more vulnerable to the potential risks inherent in the cannabis industry.
Operational Overview
Village Farms International has ownership of a 2.6M square foot facility in Delta, British Columbia, and four facilities in West Texas that add up to 5.7M square feet. These facilities are used to grow premium vegetables, which include tomatoes, bell peppers, and cucumbers.
An overview of VFF's greenhouse facilities is depicted below:
| | | | |
| --- | --- | --- | --- |
| Location | Number of Greenhouse Facilities | Square Feet | Total Facility Acres |
| Marfa, Texas | 2 | 2,527,312 | 60 |
| Fort Davis, Texas | 1 | 1,684,874 | 40 |
| Maonahans, TX | 1 | 1,272,294 | 30 |
| Delta, BC | 2 | 3,664,390 | 85 |
| TOTAL | 6 | 9,148,870 | 215 |
Thus, Village Farms International puts a strong effort into sustainable agriculture and environmentally-friendly growing practices.
To read our full disclosure, please click on the button below:
The Content contained on this page (including any facts, views, opinions, recommendations, description of, or references to, products or securities) made available by SmallCapPower/Ubika Research is for information purposes only and is not tailored to the needs or circumstances of any particular person. Any mention of a particular security is merely a general discussion of the merits and risks associated there with and is not to be used or construed as an offer to sell, a solicitation of an offer to buy, or an endorsement, recommendation, or sponsorship of any entity or security by SmallCapPower/Ubika Research. The Reader should apply his/her own judgment in making any use of any Content, including, without limitation, the use of any information contained therein as the basis for any conclusions. The Reader bears responsibility for his/her own investment research and decisions. Before making any investment decision, it is strongly recommended that you seek outside advice from a qualified investment advisor. SmallCapPower/Ubika Research does not provide or guarantee any financial, legal, tax, or accounting advice or advice regarding the suitability, profitability, or potential value of any particular investment, security, or information source. Ubika and/or its affiliates and/or their respective officers, directors or employees may from time to time acquire, hold or sell securities and/or commodities and/or commodity futures contracts in certain underlying companies mentioned in this site and which may also be clients of Ubika's affiliates. In such instances, Ubika and/or its affiliates and/or their respective officers, directors or employees will use all reasonable efforts to avoid engaging in activities that would lead to conflicts of interest and Ubika and/or its affiliates will use all reasonable efforts to comply with conflicts of interest disclosures and regulations to minimize the conflic