Blueberries Medical Corp. (CSE:BBM) has upcoming 2019 milestones that should be strong catalysts for its stock
SmallCapPower | July 26, 2019: Blueberries Medical Corp. (CSE:BBM) (OTC:BBRRF), on July 18, 2019, provided investors with an update on the Company's recent operational achievements and upcoming milestones. Today, we present an overview of Blueberries Medical, review the Company's recent operational achievements and discuss the potential upside BBM has to offer.
For Our Complete Coverage Of Canadian Marijuana Stocks Click Here    
Company Description
Blueberries Medical Corp. is a cannabis cultivator with operations focused in Colombia and Argentina. Its primary operation is strategically located in the Bogotá Savannah of central Colombia, and operations are currently being established in Argentina. The Company's management team boasts expertise and experience in agriculture, genetics, extraction, medicine, pharmacology, and marketing. For more information on the Company, visit https://blueberriesmed.com/.
Operational Overview
Blueberries Medical is fully licensed for cultivation, processing, extraction, and export of THC and CBD. The Company's extraction and processing facility is in an industrial park ∼17km away from its cultivation facilities. Once ramped up in 2020E, from Colombia, the Company anticipates processing up to 294,000 kg/year of dried cannabis utilizing 1.5M sq. ft. In 2020E, the Company estimates $53.1M in revenue and $25.6M in EBITDA, which implies discounted multiples of 0.6x and 1.2x, a discount to Colombian peers, which trade at 4.7x and 12.9x, respectively (two peers – PharmaCielo & Khiron).
The Company owns 1.9M square feet of land in Colombia. This includes the 322,000 sq. ft Guatavita property, which is currently in operation, and a 1.6M sq. ft package of land called the Zipaquira property that is available for expansion. Blueberries Medical first initiated construction of a nursery, propagation, and production facility in April 2019.
Currently, cannabis crops are growing in over 55,000 sq. ft of open-air greenhouses at the Guatavita property. The new open-air greenhouses are now completed and has expanded the Company's production capacity to 139,000 s ft.
Figure 1: Crops at Guatavita
Source: Blueberries
Harvesting is now underway and additional planting is anticipated in newly-constructed greenhouses soon.
In Argentina, the Company has formed a Joint Venture with an Argentinian state-owned company called Cannava Avatara to provide all the licensing and authorization required for cultivation, processing, extraction, and export of THC and CBD in Argentina. This JV will make Blueberries one of only three companies with Argentinian cannabis production, extraction, and export rights. Through its JV with Cannava Avatara, Blueberries Medical has access to an initial property comprising 3.2M sq. ft.
To mitigate the risk of relying on its Colombian and Argentinian operators, Blueberries plans on utilizing contract growers, and will provide oversight, consultation, and supply plant material to these growers. Beginning in 2020E, the Company expects to have contract growers providing 170,000 kg of dried cannabis per year, scaling up to 1.5M kg by 2025E.
Given the Company's significant cultivation footprint, BBM has all the cannabis biomass needed to set up a finished infused goods division, with aims to target and disrupt various segments within the consumer-packaged goods industry. Through a variety of partnerships, Blueberries has plans to leverage future certification and licensing in order to distribute their production to global markets.
Case in point, Blueberries Medical announced recently a partnership agreement with SLANG Worldwide on July 11, 2019, to license its consumer-packaged goods products. SLANG is a $318.1M market cap distributor of cannabis products primarily in the U.S.
Cannabis cultivation in Latin America could be more advantageous than cultivation in Canada. There is a lot of hype surrounding Canadian cultivation, and often the advantageous reasons for cultivating in Latin America are overlooked. According to the LATAM Cannabis Report published by Prohibition Partners, legal sales in Latin America could grow to US$12.7B by 2028E, reflecting a CAGR of 58.4% from 2018.
Figure 2: Publicly-Traded LATAM Cannabis Companies Production Capacity Table
Source: Ubika, Company Reports
Figure 3: LATAM Cannabis Market Sizing
Source: Prohibition Partners
Colombia is expected to produce cannabis at a fraction of the cost of exporters such as Canada, and its geographically-central location is advantageous for global business. According to Ryan Douglas, a cannabis consultant to Colombian growers, the cost of production in Colombia could be 10x lower than in Canada.
Three years ago, both Argentina and Colombia legalized cannabis for medical use. While home cultivation for personal use is allowed, recreational cannabis remains illegal to date in both countries. Colombia and Argentina are both politically volatile but have demonstrated a recent history of progressive policy. LA Weekly's Cannabis Editor Michael Miller believes that if the governments of these countries can put politics aside for the benefit of Colombians and Argentinians, these countries have the potential to "be the Canada and Israel of cannabis in Latin America."
Despite the domestic recreational market being off limits in both these countries, this has not stopped significant foreign investment pouring into the countries in this continent, with Colombia alone having received over $100M in CAPEX funding during 2018. Of note, a 2018 report by Reuters, stated that Colombian growers believe that they could eventually capture 20% of the global cannabis market. This means that if the global medical cannabis market reaches US$37B by 2023E, as estimated by Research and Markets, Colombia's medical cannabis market could hit a US$7.4B valuation. With regards to Argentina, the total legal cannabis market is expected to reach US$1.1B in sales by 2028, which would encompass 8.9% of Latin America's forecasted cannabis market in 2028.
Figure 4: Newly-Constructed Greenhouse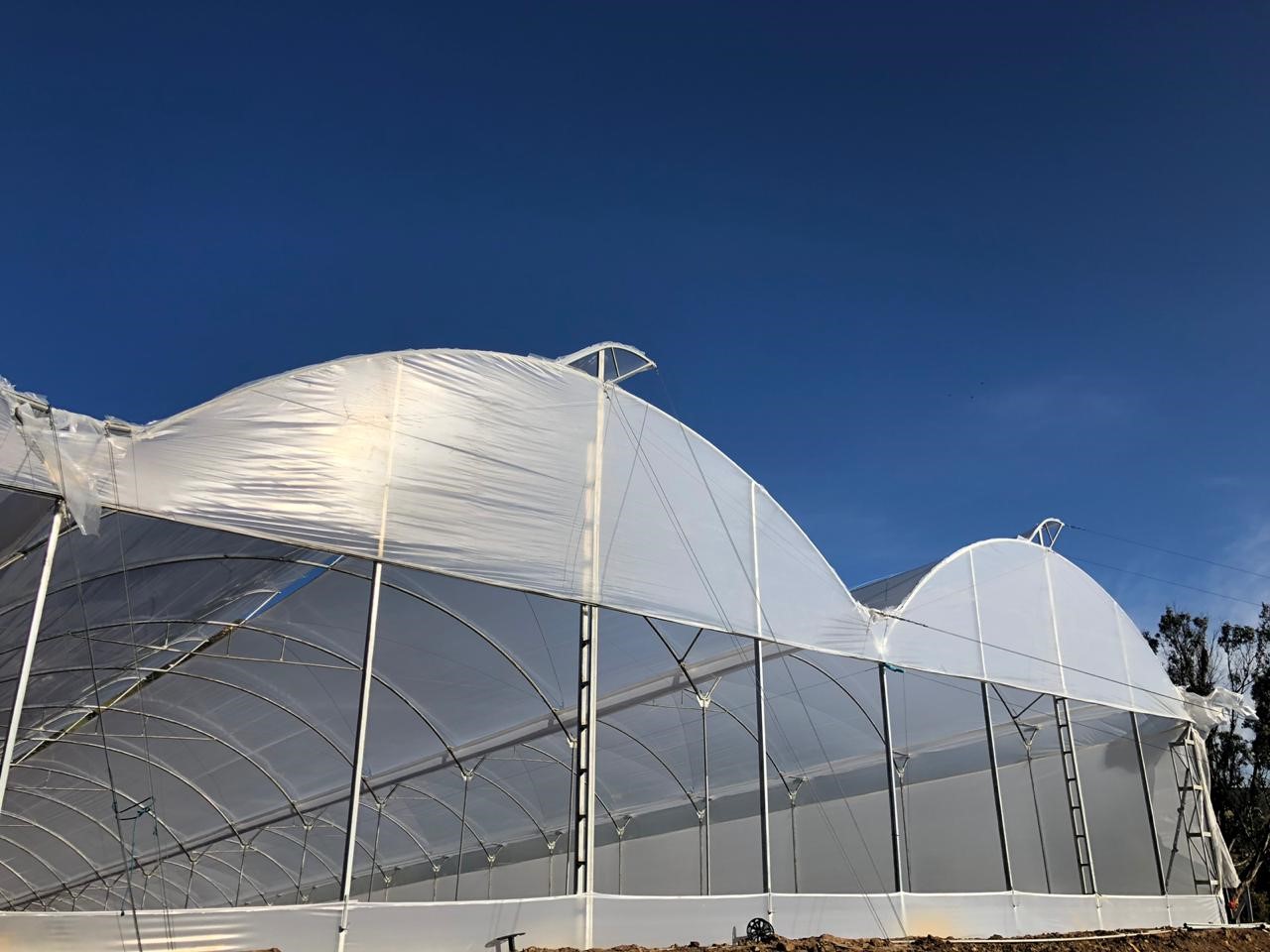 Source: Blueberries Medical
Blueberries Medical has upcoming 2019 milestones that could be strong catalysts for its stock. BBM currently has additional open-air greenhouses under construction. Completion of these greenhouses will bring the Company's total cultivation area in Colombia to ∼530,000 square feet by the end of 2019. In Argentina, BBM is looking forward to soon commencing its pilot project, which includes the preparation and cultivation of cannabis on a 107,000 square foot area of public land provided by state-owned entity and JV partner Cannava. BBM has views of further expanding its distribution network. The Company is currently formalizing additional international distribution relationships within Latin America and globally to bring Blueberries' products to these markets. Finally, Blueberries Medical is undergoing initial testing of cannabis-infused beer formulations and development of other unique products.
Blueberries Medical Corp currently trades at $0.275 with a market cap of $29.5M. In 2020E, the Company estimates $53.1M in revenue and $25.6M in EBITDA, which implies discounted multiples of 0.6x and 1.2x, a discount to Colombian peers, which trade at 4.7x and 12.9x, respectively (two peers – PharmaCielo & Khiron).
To read our full disclosure, please click on the button below:
The Content contained on this page (including any facts, views, opinions, recommendations, description of, or references to, products or securities) made available by SmallCapPower/Ubika Research is for information purposes only and is not tailored to the needs or circumstances of any particular person. Any mention of a particular security is merely a general discussion of the merits and risks associated there with and is not to be used or construed as an offer to sell, a solicitation of an offer to buy, or an endorsement, recommendation, or sponsorship of any entity or security by SmallCapPower/Ubika Research. The Reader should apply his/her own judgment in making any use of any Content, including, without limitation, the use of any information contained therein as the basis for any conclusions. The Reader bears responsibility for his/her own investment research and decisions. Before making any investment decision, it is strongly recommended that you seek outside advice from a qualified investment advisor. SmallCapPower/Ubika Research does not provide or guarantee any financial, legal, tax, or accounting advice or advice regarding the suitability, profitability, or potential value of any particular investment, security, or information source. Ubika and/or its affiliates and/or their respective officers, directors or employees may from time to time acquire, hold or sell securities and/or commodities and/or commodity futures contracts in certain underlying companies mentioned in this site and which may also be clients of Ubika's affiliates. In such instances, Ubika and/or its affiliates and/or their respective officers, directors or employees will use all reasonable efforts to avoid engaging in activities that would lead to conflicts of interest and Ubika and/or its affiliates will use all reasonable efforts to comply with conflicts of interest disclosures and regulations to minimize the conflict.