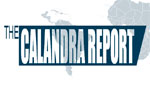 Newsletter writer Thom Calandra, editor of The Calandra Report, says he's been focusing more on platinum lately despite being "very enthusiastic" about gold. In an interview with SmallCapPower at PDAC 2016, he mentioned a new platinum producer and added that gold stocks, as opposed to the physical metal, are where the stories are early in 2016. See our interview with Thom Calandra to find out which junior resource stocks he likes at this time.
Watch for Our Upcoming Coverage from PDAC 2016:

Every spring, the city of Toronto hosts the PDAC International Convention, Trade Show & Investors Exchange. It is known as the world's leading Convention and hosts 1,000 exhibitors and 23,500 attendees from over 100 countries for people, companies and organizations in, or connected with, mineral exploration.