Samus Prasla | Green Investing and Sustainability Writer | April 7, 2016: Public transit's clean technology transformation is an important part a green-energy future, and New Flyer Industries Inc. (TSX: NFI) has become a dominant North American player in this space. All of which has sent its stock price to an all-time high and allowed the Company to hike its dividend recently.
Most cities have some sort of public transit system to help people commute to different places. Such transit systems provide solutions to reduce road traffic and, hopefully, travel time. But looking from a sustainability prospective, are these systems providing a complete solution towards reducing our dependency on fossil fuel and our overall carbon footprint? New Flyer Industries Inc. (TSX: NFI) is a leading bus and motor coach manufacturing company that is driving innovation across the North American transit industry, by incorporating alternative fuels like hydrogen, CNG and clean diesel into its product lines, making it highly efficient as compared to traditional diesel technology.
The Company offers heavy-duty buses through it Canadian and U.S. subsidiaries, New Flyer Industries Canada ULC and New Flyer of America Inc., with product lines including the Xcelsior and MiDi models. These buses use a wide range of clean propulsion systems, such as clean diesel, natural gas, diesel-electric hybrid, electric-trolley and battery-electric. New Flyer is also a leader in motor coaches, which are offered through its Canadian and U.S. subsidiaries, Motor Coach Industries Limited and Motor Coach Industries Inc. MCI's product lines include MCI J4500, the industry's best-selling intercity coach, and MCI D-Series, the industry's top-selling coach line in North American motor coach history, and is also an exclusive distributor of Setra S417 and S407 coaches. Besides manufacturing, the Company also operates a sophisticated aftermarket parts organization, providing support for all types of transit buses and motor coaches.
Currently, New Flyer Industries has a market cap of about $2 billion.
In its recent Q4/2015 financial and operating results, New Flyer saw its revenue rise by 3.1% to $347.2 million. This increase was the result of a 1.8% increase in total bus and coach deliveries and a 1.4% increase in average selling price per EU in Q4/2015 compared to Q4/2014. Consequently, its net earnings surged 90% to $14.1 million in Q4/2015, which allowed the Company to raise its annual dividend 12.9% to $0.70 per common share.
New Flyer Industries is still in a position to maintain its significant backlog of $4.95 billion (9,664 EUs), which has increased by 32.57% compared to Q4/2014. During Q4/2015, 309 option EUs expired. In order to avoid such order expiry in the future, the Company will focus on state procurements and cooperative purchasing agreements, with a goal of having available schedules from which customers within a prescribed region can purchase.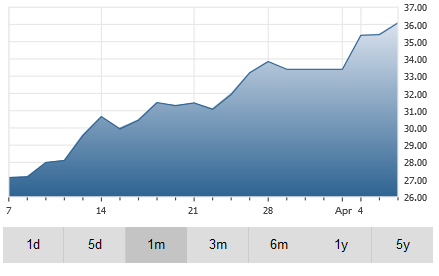 Recently, New Flyer Industries acquired three orders valued approximately $245.95 million.
First, the Maryland Transit Administration awarded a contract for 172 heavy-duty 40 foot Xcelsior clean diesel buses, valued at $97 million. Lastly, both the Long Beach Transit and the New York City Transit Authority awarded contracts for heavy-duty 40 foot Xcelsior compressed natural gas (CNG) buses with a value of $70.95 million (129 buses) and $78 million (138 buses), respectively. In addition to these orders, New Flyer Industries has other contracts that are at the biding and approval stages, keeping its future sales funnel filled.
With new regulations targeting the reduction of carbon emissions around the world, New Flyer Industries' buses have become a must-have technology in the transit industry. All of which has sent the Company's stock price to a 52-week high recently.
New Flyer Industries Inc. is a component company of the benchmark-beating Ubika Sustainability 20 index (See the other top-performing stocks here).

DISCLAIMER

The Content contained on this page (including any facts, views, opinions, recommendations, description of, or references to, products or securities) made available by SmallCapPower/Ubika Research is for information purposes only and is not tailored to the needs or circumstances of any particular person. Any mention of a particular security is merely a general discussion of the merits and risks associated there with and is not to be used or construed as an offer to sell, a solicitation of an offer to buy, or an endorsement, recommendation, or sponsorship of any entity or security by SmallCapPower/Ubika Research. The Reader should apply his/her own judgment in making any use of any Content, including, without limitation, the use of any information contained therein as the basis for any conclusions. The Reader bears responsibility for his/her own investment research and decisions. Before making any investment decision, it is strongly recommended that you seek outside advice from a qualified investment advisor. SmallCapPower/Ubika Research does not provide or guarantee any financial, legal, tax, or accounting advice or advice regarding the suitability, profitability, or potential value of any particular investment, security, or information source.