Libero Copper & Gold Corporation (TSXV:LBC) has four major copper porphyry targets
Bob Moriarty | April 12, 2022 | SmallCapPower: Copper has been hit with a double whammy. Supply is down due to major mines closing. There has been a lack of investment in exploration because the price of copper just couldn't justify it. Their demand increases from the clean energy side and the experts are calling for a four to eight million tonne copper gap to develop by 2030. To give you an idea of what that means, the ten largest copper mines in the world only produce 5.7 million tonnes per year.
(The following is an article originally published on 321gold.com on March 14, 2022)
Libero Copper & Gold Corporation (TSXV:LBC) has four major copper porphyry targets, two are in the Golden Triangle of Northern BC, Canada, one is in San Juan, Argentina. Their prime project is called the Mocoa copper moly project in Colombia.
Mocoa was picked up from B2 Gold in 2018 for just over two million shares of Libero and a 2% NSR. Since then the company has staked an additional 104,000 hectares to add to the project. Between 1978 and 1983 prior operators conducted just over 18,300 meters of diamond drilling in thirty-one holes. While B2 owned the project, they added an additional 6,900-meter in twelve holes. The best hole included 634 meters of 0.67% CuEq. That is just about $68 rock and that would be economic in Colombia today.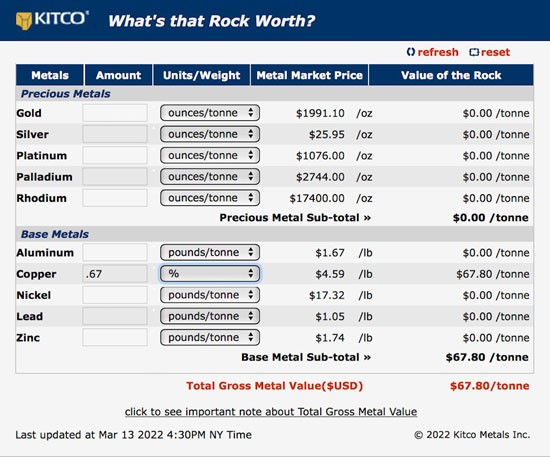 There is an existing 43-101 on Mocoa showing 6.31 billion pounds of CuEq. With only 63.5 million shares outstanding that means every $.54 share of stock has ninety-nine pounds of CuEq behind it. That sounds like a good deal to me.
In mid-February the company announced commencing a 5,000-meter drill program designed to expand the resource, do infill drilling and provide material for a metallurgical study. There will be a total of five holes.
In 2019 Libero added a project in BC called the Big Red porphyry property. They can pick up 100% of the project for 400,000 shares and cash payments of $440,000 over four years. So far 200,000 shares have been issued and $140,000 paid out. An initial drill program came up with 120 meters of 0.41 CuEq in 2020. A follow up program in 2021 of ten holes with 4,570 meters of drilling came up with results of 119 meters of 0.29 CuEq.
In early 2021 the company added an additional property in BC with the Big Bulk porphyry gold/copper project where the company will pay $1 million or issue shares with similar value in addition to payments of $625,000 and conducting $750,000 of exploration over five years to get 100% subject to a 2% NSR.
Libero Copper is well financed with a completed $8.3 million pp. The bulk of the money will be spent on drilling and exploration of the Mocoa project in Colombia. With a $34 million market cap and over $8 million in the bank it is a cheap perpetual call on copper. No one knows what the ultimate effects will be from the sanctions but with nickel going up 111% in one day, frankly I see hyperinflation.
I have bought Libero in the open market and participated in private placements so naturally I am biased. Libero is an advertiser. Do your own due diligence.
To read our full disclosure, please click on the button below:
The Content contained on this page (including any facts, views, opinions, recommendations, description of, or references to, products or securities) made available by SmallCapPower/Ubika Research is for information purposes only and is not tailored to the needs or circumstances of any particular person. Any mention of a particular security is merely a general discussion of the merits and risks associated there with and is not to be used or construed as an offer to sell, a solicitation of an offer to buy, or an endorsement, recommendation, or sponsorship of any entity or security by SmallCapPower/Ubika Research. The Reader should apply his/her own judgment in making any use of any Content, including, without limitation, the use of any information contained therein as the basis for any conclusions. The Reader bears responsibility for his/her own investment research and decisions. Before making any investment decision, it is strongly recommended that you seek outside advice from a qualified investment advisor. SmallCapPower/Ubika Research does not provide or guarantee any financial, legal, tax, or accounting advice or advice regarding the suitability, profitability, or potential value of any particular investment, security, or information source. Ubika and/or its affiliates and/or their respective officers, directors or employees may from time to time acquire, hold or sell securities and/or commodities and/or commodity futures contracts in certain underlying companies mentioned in this site and which may also be clients of Ubika's affiliates. In such instances, Ubika and/or its affiliates and/or their respective officers, directors or employees will use all reasonable efforts to avoid engaging in activities that would lead to conflicts of interest and Ubika and/or its affiliates will use all reasonable efforts to comply with conflicts of interest disclosures and regulations to minimize the conflict.