Enerdynamic Hybrid Technologies doubled its revenue recently with the ability to improve the lives of millions
SmallCapPower | January 18, 2017: Enerdynamic Hybrid Technologies Corp. (TSXV: EHT) is a Canadian company that delivers proprietary, sustainable and reliable turn-key renewable energy solutions that can be implemented anywhere. Since our November 28th industry report, EHT has charged more than 125% higher after announcing that it was awarded a military contract and had successfully completed its first off-grid energy system in Ghana, West Africa. Utilizing solar panels and battery energy storage, EHT created a fully off grid energy solution for Gariba Lodge, one of the largest local hotel complexes in northern Ghana.
Related: BIOX Corporation (TSX: BX) Surges 17% to Top the Ubika Sustainability 20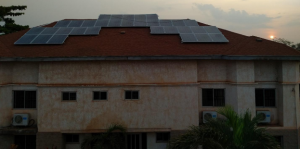 The system is Ghana's first smart micro-grid energy system that connects and communicates between three buildings. The smart system is designed to transfer the power produced to any of the three facilities, yet allow each building in the grid to independently act as a power generator or consumer; increasing energy efficiency. Generating over 500 kWh daily, the system has enough juice to power a modern Ghana home for two months!
During the four weeks of the project's construction, there had been widespread attention from media, local businesses, and all levels of government. With the increase in local electricity rates and frequent power outages through the main grid, EHT sees the West African region as a key area of focus for its modular building system and microgrid power technologies. The region has a population of over 200 million people with low cost housing and power supply in high demand.
Gariba expects a payback within five years on the green energy investment, while simultaneously improving guest experiences. An advantage of EHT's microgrid system is its ability to deliver uninterrupted energy 24 hours per day without the requirement of an existing electrical grid. Furthermore, it has the ability to connect entire villages and communities, allowing them to share locally produced power without the risks associated and time required to establish costly power transmission infrastructure. Ghana represents an excellent opportunity for EHT to replicate Gariba's success and grow revenues for shareholders.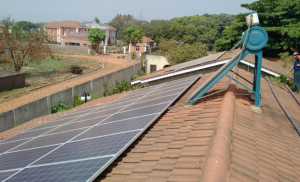 On December 12th, EHT achieved a new milestone and announced signing of a Letter of Intent to build 50,000 military family homes using the company's sustainable Advanced Modular Housing System with the embedded Enertec solar energy system in Ivory Coast for a branch of Ivory Coast military families. The unique patented houses are naturally pest resistant, exceptionally hygienic, and eliminate all thermal bridging—losing no energy from heating or cooling. The contract will be signed in early January and houses will be built in 10,000 home tranches.
With 50% of the African population not having access to reliable electricity, there is growth potential for EHT. By offering affordable energy solutions that can be set up for 'power in an hour' as well as modular homes that can be built in a day, EHT is a one-stop-shop for renewable energy and modular shelters. With each successful project, EHT gains more attention and credibility, which may turn into more contracts and eventually, profitability. Beyond Africa, EHT is eyeing a much larger market for its products, such as emergency disaster relief, military camps, and Latin America. Quarter over quarter, EHT has doubled its revenues to $520K, and increased its cash balance eightfold to $670K. Currently, EHT trades at an EV to sales multiple of 19.89, which is higher than its renewable energy peers, but this calculation does not include the newly-signed military contract with Ivory Coast. With a Debt to Equity ratio of 170%, Enerdynamic Hybrid Technologies has great speculative growth potential along with the ability to improve millions of lives worldwide.
The Content contained on this page (including any facts, views, opinions, recommendations, description of, or references to, products or securities) made available by SmallCapPower/Ubika Research is for information purposes only and is not tailored to the needs or circumstances of any particular person. Any mention of a particular security is merely a general discussion of the merits and risks associated there with and is not to be used or construed as an offer to sell, a solicitation of an offer to buy, or an endorsement, recommendation, or sponsorship of any entity or security by SmallCapPower/Ubika Research. The Reader should apply his/her own judgment in making any use of any Content, including, without limitation, the use of any information contained therein as the basis for any conclusions. The Reader bears responsibility for his/her own investment research and decisions. Before making any investment decision, it is strongly recommended that you seek outside advice from a qualified investment advisor. SmallCapPower/Ubika Research does not provide or guarantee any financial, legal, tax, or accounting advice or advice regarding the suitability, profitability, or potential value of any particular investment, security, or information source. Ubika and/or its affiliates and/or their respective officers, directors or employees may from time to time acquire, hold or sell securities and/or commodities and/or commodity futures contracts in certain underlying companies mentioned in this site and which may also be clients of Ubika's affiliates. In such instances, Ubika and/or its affiliates and/or their respective officers, directors or employees will use all reasonable efforts to avoid engaging in activities that would lead to conflicts of interest and Ubika and/or its affiliates will use all reasonable efforts to comply with conflicts of interest disclosures and regulations to minimize the conflict.