Recent uncertainty surrounds how the gold miner reported its reserves
SmallCapPower | July 19, 2016: Asanko Gold Inc. (TSE:AKG) is a gold junior that seemed to have been doing everything right. Yet, a Toronto-based hedge fund recently questioned the calculation of the Ghana gold miner's resource. Asanko has yet to issue any news in response to these claims, so the release of its second-quarter production and conference call on Wednesday, July 20, 2016, should be an event of great interest to its shareholders.
Asanko Gold's flagship project is the Asanko Gold Mine located in Ghana, West Africa. Commercial production was declared on April 1, 2016, and the Company expects to ramp up its output to 190,000 ounces per annum by Q2 2016.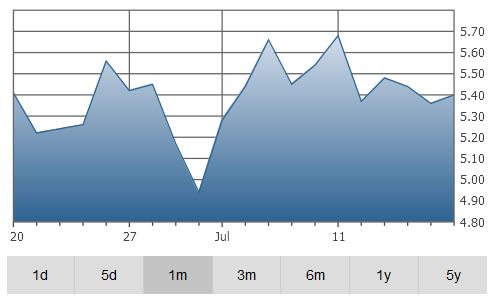 On June 29, 2016, the Financial Post reported that K2 & Associates Investment Management alleged that Asanko's gold resources "don't add up" and appear to be over-inflated by a factor of two. It must be noted that K2 has a short position in Asanko and, thus, has much to gain if the Company's stock price were to fall.
K2 claims th
e Company's current resource estimate contains (roughly six times) more gold ounces than the previous miner's stated resources before they forfeited the asset, and believes Asanko will struggle to meet the production estimates in its plan, and will have to reduce its reserves.
In the Financial Post article, Asanko Gold spokeswoman Alex Buck completely refuted the claims made by K2.
The Company's stock price fell about 5% following the article's release but has since recovered nearly all of those losses, suggesting that the market is playing a 'wait and see' game before making any final decisions. Expect Asanko to be upbeat in any guidance going forward in response to these claims.
Nonetheless, the questions over the Nkran deposit will have to be addressed during its conference call on Wednesday in a manner that leaves little doubt as to how the calculations were obtained. Otherwise, Asanko shares will likely underperform the gold sector as a whole.
DISCLAIMER
The Content contained on this page (including any facts, views, opinions, recommendations, description of, or references to, products or securities) made available by SmallCapPower/Ubika Research is for information purposes only and is not tailored to the needs or circumstances of any particular person. Any mention of a particular security is merely a general discussion of the merits and risks associated there with and is not to be used or construed as an offer to sell, a solicitation of an offer to buy, or an endorsement, recommendation, or sponsorship of any entity or security by SmallCapPower/Ubika Research. The Reader should apply his/her own judgment in making any use of any Content, including, without limitation, the use of any information contained therein as the basis for any conclusions. The Reader bears responsibility for his/her own investment research and decisions. Before making any investment decision, it is strongly recommended that you seek outside advice from a qualified investment advisor. SmallCapPower/Ubika Research does not provide or guarantee any financial, legal, tax, or accounting advice or advice regarding the suitability, profitability, or potential value of any particular investment, security, or information source. Ubika and/or its affiliates and/or their respective officers, directors or employees may from time to time acquire, hold or sell securities and/or commodities and/or commodity futures contracts in certain underlying companies mentioned in this site and which may also be clients of Ubika's affiliates. In such instances, Ubika and/or its affiliates and/or their respective officers, directors or employees will use all reasonable efforts to avoid engaging in activities that would lead to conflicts of interest and Ubika and/or its affiliates will use all reasonable efforts to comply with conflicts of interest disclosures and regulations to minimize the conflict.