Aleafia Health Inc. (TSX:ALEF) stock is currently trading below peer group valuations, says Ubika Research
SmallCapPower | May 3, 2019: Aleafia Health Inc. (TSX:ALEF) (OTC:ALEAF) is positioned to be a leading supplier of medical cannabis. With Emblem's production capabilities (the amalgamation with Aleafia Health closed on March 14), the Company's combined annual capacity is expected to reach 138,000 kg/year, with extraction capacity for value-added products at 50,000 kg/year. This capacity stacks up well against other Canadian cultivators and demonstrates significant future potential, as Aleafia is now on track to be within the Top 10 of Canadian cultivators. As a result, the Company is on target to be in the same league as many $1B plus market cap Canadian cultivators, such as HEXO Corporation (TSX:HEXO, $10.48), The Green Organic Dutchman Holdings Ltd. (TSX:TGOD, $4.33), and Cronos Group Inc (TSX:CRON, $23.05).
Aerial footage of Aleafia Health's 60,000 kg Outdoor Grow site. The planting area extends to left of frame.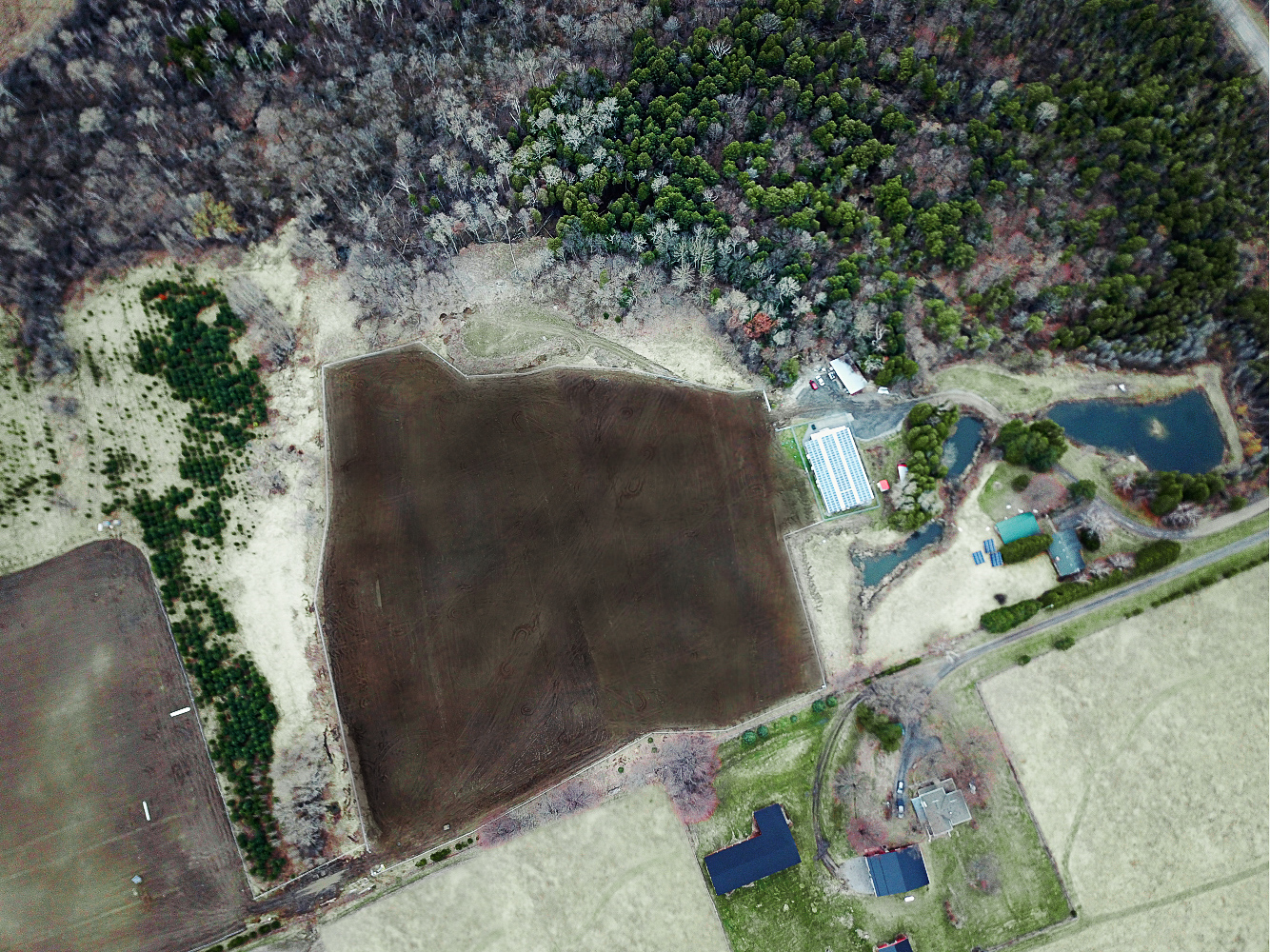 Source: Aleafia Health
Construction at Aleafia Health's Outdoor Grow site is now complete and is ready to start growing once Health Canada approval has been secured. The Port Perry facility is expected to yield 60,000 kg annually with a full growing season. Management is targeting cash cost of less than $0.25/gram.
Note: 1/ HEXO with Newstrike
Source: Company Reports
Extraction facility to be expanded to process 50,000 kg of biomass annually. On April 16, 2019, Aleafia Health announced that the Phase II expansion of its Paris, Ontario extraction facility is expected to be completed by Q3/19 and operational-ready. As a result, with the additional extraction capacity, Aleafia Health can scale its high-margin Symbl adult-use brands, including the recently-announced oral spray and Emblems medical brands, such as Atmosphere oral spray, capsules, oils, and dried flower. With increased extraction capabilities, the Company also plans to create additional value-added derivative products, such as edibles and topicals, to drive higher margins once these new formats become legal on October 17, 2019. Aleafia also intends to offer white label and tolling services to other cultivators without extraction facilities.
Grimsby greenhouse aerial
Source: Aleafia Health
Secured a 175,000 kg five-year supply agreement with Aphria (TSX:APHA, $10.15). The Company intends to leverage wholesale pricing under its existing supply agreement with Aphria and is expecting first shipments of dried flower and crude cannabis oil by mid-2019. In addition, Aleafia Health also has a 9,000 kg supply agreement with Tilray (NASDAQ:TLRY, US$53.15). The two supply deals ensure that Aleafia has enough flower to supply the Canadian adult-use recreational market under its brand name Symbl.
National clinic and education network complemented by most extensive known proprietary cannabis dataset. With Aleafia's Canabo Medical Clinics and Emblem's GroWise health clinics, the combined entity has processed 60,000 patients to date. Additionally, the Company has collected over 10M data points from its interactions with patients and plans on using the data to develop evidence-based treatments for chronic illnesses, such as acute pain, insomnia, anxiety, and eating disorders. On November 14, 2018, Aleafia also announced it had launched a global cannabis education platform with Brightspace, a cloud-based learning platform. Courses offered include, Cannabis 101, Cannabis in the Workplace, Patient Dosing & Titration, Referring Doctor Training, and Medical Professional Training, all of which are aimed to educate patients looking to explore cannabis-based medication.
International Expansion. On April 15, Aleafia Health announced it had invested an additional $540K in Australian LP CannaPacific. CannaPacific claims to be one of the largest potential cultivators in Australia with 108,000 sq. ft of greenhouse space. This announcement is in addition to Emblem Germany's JV with Acnos Pharma GmbH. The Company will leverage its Phase II Paris Expansion, which includes a 5,000 sq. ft. laboratory being built to current good manufacturing processes (cGMP) standards, which is expected to come online in Q3/19. Both facilities are expected to provide cultivation to meet the demands of the Australian and German medical markets.
*Pro Forma estimates utilize Aleafia's fully-diluted share count of 180M + Emblem Share Consideration (123M x 0.8377) = 283M shares outstanding post-merger.
Trades at a discount compared with peers. The pro-forma Company trades at an 11.8x 2019E and 5.2x 2020E, EV/EBITDA multiples, compared with Canadian majors, which trade at a consensus average of 27.5x and 41.2x multiples, respectively. Additionally, Aleafia Health has the lowest EV/fully-funded production capacity at 3.0x, compared with 29.4x the average of its peer group. We believe that this valuation gap should close once the Company ramps up production by the end of 2019.
A view from inside greenhouse ready to grow pending Health Canada approval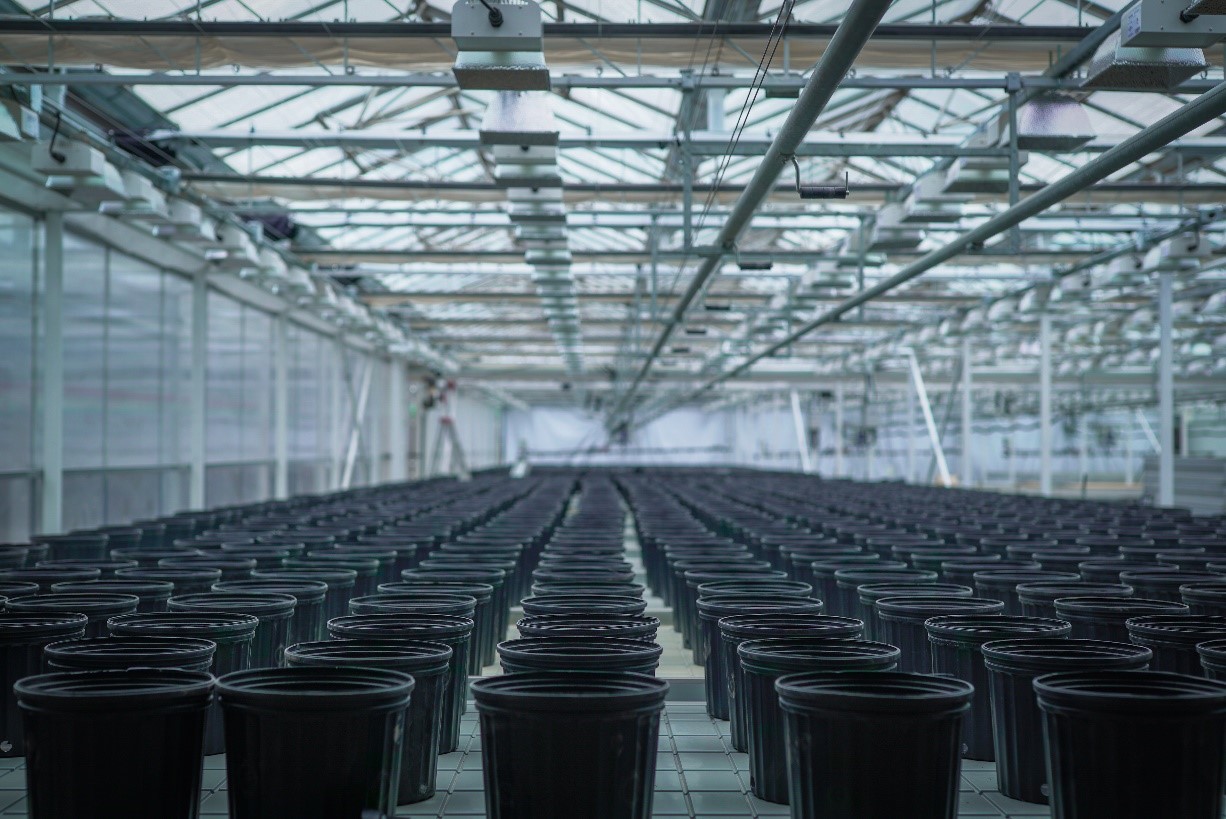 Source: Aleafia Health
To find out more about Aleafia Health Inc. (TSX:ALEF) please visit the company's Investor Hub.
Aleafia Health Inc. (TSX:ALEF) is a featured sponsored company and has paid SmallCapPower.com a fee for coverage. To learn more, see our full disclosure HERE >>
To read our full disclosure, please click on the button below:
The Content contained on this page (including any facts, views, opinions, recommendations, description of, or references to, products or securities) made available by SmallCapPower/Ubika Research is for information purposes only and is not tailored to the needs or circumstances of any particular person. Any mention of a particular security is merely a general discussion of the merits and risks associated there with and is not to be used or construed as an offer to sell, a solicitation of an offer to buy, or an endorsement, recommendation, or sponsorship of any entity or security by SmallCapPower/Ubika Research. The Reader should apply his/her own judgment in making any use of any Content, including, without limitation, the use of any information contained therein as the basis for any conclusions. The Reader bears responsibility for his/her own investment research and decisions. Before making any investment decision, it is strongly recommended that you seek outside advice from a qualified investment advisor. SmallCapPower/Ubika Research does not provide or guarantee any financial, legal, tax, or accounting advice or advice regarding the suitability, profitability, or potential value of any particular investment, security, or information source. Ubika and/or its affiliates and/or their respective officers, directors or employees may from time to time acquire, hold or sell securities and/or commodities and/or commodity futures contracts in certain underlying companies mentioned in this site and which may also be clients of Ubika's affiliates. In such instances, Ubika and/or its affiliates and/or their respective officers, directors or employees will use all reasonable efforts to avoid engaging in activities that would lead to conflicts of interest and Ubika and/or its affiliates will use all reasonable efforts to comply with conflicts of interest disclosures and regulations to minimize the conflict.