Aleafia Health Inc. (TSX:ALEF) said it has made an additional A$540,000 investment in private Australian cultivator and processor CannaPacific
SmallCapPower | April 15, 2019: Aleafia boosts investment in Australian LP CannaPacific. On April 11, 2019, Aleafia Health Inc. (TSX:ALEF) (OTC:ALEAF) announced the investment of A$540K in a private Australian cultivator and processor called CannaPacific. The deal was apart of a larger A$4.5M financing that was previously announced in March. Aleafia's investment follows an initial 10% investment stake (A$210K+A$100K in two tranches) in CannaPacific, which closed on January 17, 2019.
CannaPacific claims to be one of the largest potential cultivators in Australia. CannaPacific recently closed an acquisition of a 108,000 sq. ft greenhouse facility in New South Wales, Australia, which is expected to grow medical cannabis for domestic patients and for export. As part of CannaPacific's relationship with Aleafia, CannaPacific is expected to leverage Aleafia's proprietary data set, medical expertise, cannabis education platform, and eCommerce platform in the Australian medical cannabis market.
CannaPacific CEO Joshua Dennis said, "With the closing of our 108,000 sq. ft. greenhouse facility and strategic relationship with a medical cannabis leader, we expect to accelerate our first to market strategy in Australia along with our objective of becoming a major exporter of medical cannabis products."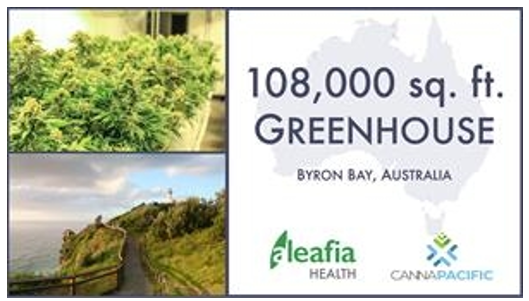 Aleafia Health and Emblem merger to create one of the largest medical cannabis companies. Recall, the Aleafia Health takeout of Emblem closed March 14, 2019. Now, with a total production goal of 140,000 kg, the combined entity has the potential to be in the same league as the other major Canadian LPs. The combined Company's planned, and fully-funded production capacity would be comparable to the 150,000 kg planned and funded capacity of Aurora Cannabis Inc. (TSX:ACB, $11.40 | N/R), Hexo Corp. (TSX:HEXO, $8.07 | N/R) at 108,000 kg, and Organigram Holdings Inc. (TSXV:OGI, $8.83 | N/R) at 89,000 kg. With the expanded production capacity, the combined entity expects cost synergies. Once the merger is completed, the Company plans to focus on high-margin products such as oils, sprays, sustained release tables, and CBD-infused wellness products.
*Pro Forma estimates utilize Aleafia's fully-diluted share count of 180M + Emblem Share Consideration (123M x 0.8377) = 283M shares outstanding post-merger.
Undervalued to peers. The pro-forma Company trades at an 17.5x 2019E and 7.7x 2020E, EV/EBITDA multiples, compared with Canadian majors, which trade at a consensus average of 42.5x and 24.9x multiples, respectively. We believe that this valuation gap should close once the Company ramps up production by the end of 2019.
To find out more about Aleafia Health Inc. (TSX:ALEF) please visit the company's Investor Hub.
Aleafia Health Inc. (TSX:ALEF) is a featured sponsored company and has paid SmallCapPower.com a fee for coverage. To learn more, see our full disclosure HERE >>
To read our full disclosure, please click on the button below:
The Content contained on this page (including any facts, views, opinions, recommendations, description of, or references to, products or securities) made available by SmallCapPower/Ubika Research is for information purposes only and is not tailored to the needs or circumstances of any particular person. Any mention of a particular security is merely a general discussion of the merits and risks associated there with and is not to be used or construed as an offer to sell, a solicitation of an offer to buy, or an endorsement, recommendation, or sponsorship of any entity or security by SmallCapPower/Ubika Research. The Reader should apply his/her own judgment in making any use of any Content, including, without limitation, the use of any information contained therein as the basis for any conclusions. The Reader bears responsibility for his/her own investment research and decisions. Before making any investment decision, it is strongly recommended that you seek outside advice from a qualified investment advisor. SmallCapPower/Ubika Research does not provide or guarantee any financial, legal, tax, or accounting advice or advice regarding the suitability, profitability, or potential value of any particular investment, security, or information source. Ubika and/or its affiliates and/or their respective officers, directors or employees may from time to time acquire, hold or sell securities and/or commodities and/or commodity futures contracts in certain underlying companies mentioned in this site and which may also be clients of Ubika's affiliates. In such instances, Ubika and/or its affiliates and/or their respective officers, directors or employees will use all reasonable efforts to avoid engaging in activities that would lead to conflicts of interest and Ubika and/or its affiliates will use all reasonable efforts to comply with conflicts of interest disclosures and regulations to minimize the conflict.