Silvergate Capital Corp (NYSE:SI) shares have soared more than 92% since Capital Ideas wrote about the company about 16 months ago
Capital Ideas Media | May 5, 2022 | SmallCapPower: Investors/speculators looking for exposure to cryptocurrencies, such as Bitcoin, might want to consider shares of Silvergate Capital Corp. (NYSE:SI) instead.
(Originally published on Capital Ideas Media on December 22, 2020)
Silvergate operates much like a bank but 95% of its deposits are digital currencies. The company's depositors include 64 crypto exchanges, such as Coinbase, Genesis Kraken, and Bitstamp, and also include nearly 600 institutional investors as well as other participants such as miners, stablecoin issuers, and blockchain platform operators.
[Editor's Note: Shares of Silvergate Capital have soared more than 92% since Capital Ideas wrote about the company about 16 months ago.]
[Please click here to get immediate access to curated research in the weekly Capital Ideas Digest with our free 30-Day Trial.] 
Silvergate Capital doesn't own the cryptocurrencies but also doesn't pay interest on the deposits. The company provides traditional commercial loans but also uses the digital currencies as collateral to issue US dollar loans to its clients.
Silvergate Capital has attracted numerous customers because of its Silvergate Exchange Network (SEN), which facilitates 24-7, real-time money transfers between cryptocurrency exchanges and major hedge funds and other digital currency participants. Since all of its customers belong to SEN they can all transact with one another via the network, doing so with less friction, no counterparty risk and more liquidity.
Silvergate does not trade cryptocurrencies itself; it merely facilitates the exchange of dollars among the companies and institutions that do.
Like any other bank, Silvergate makes a lot of its money from fees, such as wire transfers, ACH transfers, foreign exchange transfer. And its fee income has been growing: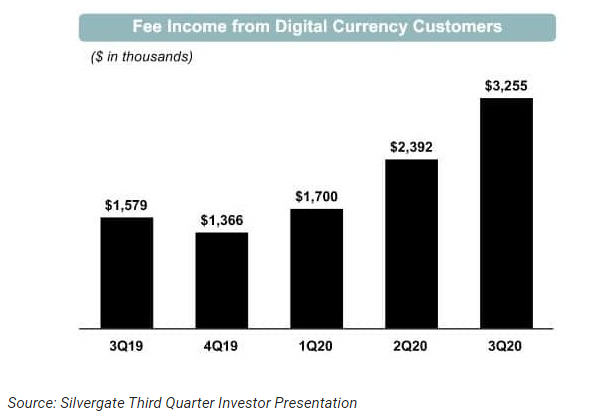 In all likelihood, some bigger banks will move into this space but, for now, Silvergate Capital has a first-mover advantage in addition to the network it has built.
To read our full disclosure, please click on the button below:
The Content contained on this page (including any facts, views, opinions, recommendations, description of, or references to, products or securities) made available by SmallCapPower/Ubika Research is for information purposes only and is not tailored to the needs or circumstances of any particular person. Any mention of a particular security is merely a general discussion of the merits and risks associated there with and is not to be used or construed as an offer to sell, a solicitation of an offer to buy, or an endorsement, recommendation, or sponsorship of any entity or security by SmallCapPower/Ubika Research. The Reader should apply his/her own judgment in making any use of any Content, including, without limitation, the use of any information contained therein as the basis for any conclusions. The Reader bears responsibility for his/her own investment research and decisions. Before making any investment decision, it is strongly recommended that you seek outside advice from a qualified investment advisor. SmallCapPower/Ubika Research does not provide or guarantee any financial, legal, tax, or accounting advice or advice regarding the suitability, profitability, or potential value of any particular investment, security, or information source. Ubika and/or its affiliates and/or their respective officers, directors or employees may from time to time acquire, hold or sell securities and/or commodities and/or commodity futures contracts in certain underlying companies mentioned in this site and which may also be clients of Ubika's affiliates. In such instances, Ubika and/or its affiliates and/or their respective officers, directors or employees will use all reasonable efforts to avoid engaging in activities that would lead to conflicts of interest and Ubika and/or its affiliates will use all reasonable efforts to comply with conflicts of interest disclosures and regulations to minimize the conflict.