QYOU Media Inc. (TSXV:QYOU) announced on October 21, 2020, that its U.S. Influencer Marketing Division has secured US$710K in new contracts
SmallCapPower | October 22, 2020: QYOU Media's U.S. Influencer marketing division secures US$710K in contracts. On October 21, 2020, QYOU Media Inc. (TSXV:QYOU) announced that its LA-based Influencer Marketing division has secured US$710K in business contracts throughout September and October 2020. With movie theaters across the U.S. closed due to the COVID-19 pandemic, QYOU Media has been working with major media companies, who have been forced to adjust their content distribution strategies towards influencer marketing. Clients from the new contracts include major studios looking for theatrical and premium on video on demand (VOD), as well as subscription video on demand (SVOD), and advertiser video on demand (AVOD). We believe that this validates the pivot of the U.S .Influencer Marketing post-COVID-19 into on demand services, as this division was focused primarily on theatrical releases pre- COVID-19.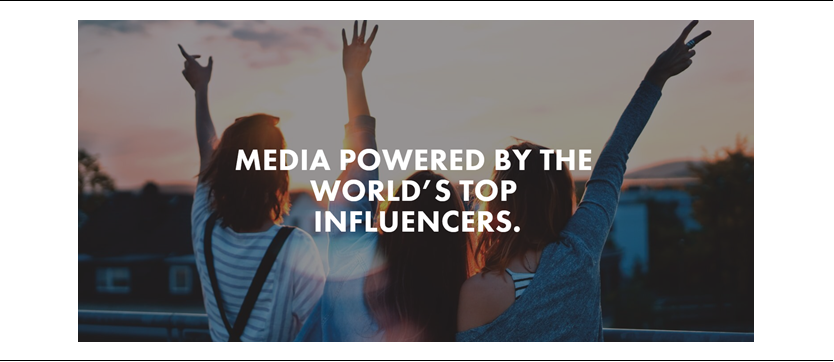 Investors should not discount the value of QYOU Media's influencer marketing business. Our belief that QYOU Media's stock price is grossly undervalued in centered around the asset value creation in the Company's 88% owned subsidiary Q India. However, investors should not discount the value in the Company's U.S. Influencer Marketing business, which is focused on influencer marketing campaigns for theatrical studio films and original content launching across television, OTT and Mobile." In our view, yesterday's news of QYOU Media securing US$710K in influencer marketing contracts validates our view that business is coming back sharply after the COVID-19 lockdowns. Additionally, the explosive growth in the use of apps such as Instagram and TikTok has grown marketing via these platforms into a mainstream activity. The Influencer Marketing industry is expected to grow from US$8B in revenues annually in 2019, to $15B in 2022, according to Business Insider Intelligence estimates, based on Mediakix data, which implies an annualized growth rate of 23.3%.
About QYOU Media Influencer Marketing Division
QYOU Media's award-winning influencer marketing division deploys digital and social media influencers to promote third-party brands. QYOU Media utilizes social media influencers across platforms including YouTube, Instagram, and TikTok, which are adored by audiences and communities. Influencer marketing is critical for brands to engage with and drive excitement with their audiences to successfully market products and services to those audiences. QYOU's Influencer Marketing Division develops and executes proven strategies that amplify and induce influencers' followers to share content that includes key brand messaging with their family and friends – thus creating true virality.
Valuation
Figure 1: QYOU Media M&A Table
Source: Capital IQ, Ubika Research
Undervalued based on comparable M&A transactions. We selected transactions in the media and entertainment, distribution, and content production space, which we believe to be representative of QYOU Media. Based on analysis of comparable transactions over the past 10 years, the mean LTM revenue and EBITDA takeout multiples are 5.4x and 29.9x, respectively. Based on management's preliminary revenues estimates, QYOU Media is currently trading at a 0.8x F2022E EV/Revenue multiple.
We believe that QYOU Media is undervalued based on the potential of The Q India alone. However, investors should not discount the potential of the U.S. Influencer Marketing business. This valuation gap should narrow as QYOU successfully executes on its Q India strategy of monetization of its platform via advertising and attain influencer revenues through its U.S. business.
Cheddar Inc Case Study – VC Financing Rounds
Figure 2: Cheddar Inc Case Study
Source: www.techcrunch.com, Ubika Research
We believe that Cheddar's VC financing rounds illustrate the potential value of QYOU Media. Cheddar Inc. is a Millennial-focused digital news network, dubbed the "CNBC for Millennials." Cheddar focuses on business news and top headlines, and is available through over-the-top devices (online, SmartTVs, tablets, phones, etc), with 19 hours of programming per day. Cheddar's distribution network includes 40M homes via over-the-top (OTT) platforms and is available on 60% of all Samsung TVs attracting 400M video views per month.
In our view Cheddar is the single best comparable transaction based on the target demographic, similar distribution channels, and device reach. Cheddar raised ~$55M in funding across four venture financing rounds with an average premium of ~100% for each round. Cheddar was acquired by Altice in August 2019, at a 25% premium over its Series D round.
Of note Cheddars valuation increased by 13-fold from its Series A to its takeover by Altice. QYOU Media with an even larger distribution reach in India (~1B combined), similar demographics (Millennial/Gen Z Indians 20-30 years old), and existing in an emerging market with M&A growth expected to outpace that of the United States, we believe that QYOU could be a prime candidate for a similar takeover by a large-cap media player once the Company executes on its India strategy within the next two to three years.
Company Description
QYOU Media Inc. is a media company focused, via its 88% owned subsidiary QYOU Media India Pvt. Ltd., on 'Young Indians' being the approximately 400M 20 to 30-year old's who are a subset of the Millennial and Gen Z market in India. QYOU Media produces 'The Q India', a Hindi-language television channel with a growing VOD content library, with over 800 programs and counting, that is now available to approximately 610M users via 55M television homes with partners including TATA Sky, Airtel DTH & SitiNetworks; 355M OTT users via platforms including MX Player, ZEE5 and Dish Watcho; and 200 million users on mobile and digital platforms including JioTV, Airtel Xstream, SNAP and Chingari.
To read our full disclosure, please click on the button below:
The Content contained on this page (including any facts, views, opinions, recommendations, description of, or references to, products or securities) made available by SmallCapPower/Ubika Research is for information purposes only and is not tailored to the needs or circumstances of any particular person. Any mention of a particular security is merely a general discussion of the merits and risks associated there with and is not to be used or construed as an offer to sell, a solicitation of an offer to buy, or an endorsement, recommendation, or sponsorship of any entity or security by SmallCapPower/Ubika Research. The Reader should apply his/her own judgment in making any use of any Content, including, without limitation, the use of any information contained therein as the basis for any conclusions. The Reader bears responsibility for his/her own investment research and decisions. Before making any investment decision, it is strongly recommended that you seek outside advice from a qualified investment advisor. SmallCapPower/Ubika Research does not provide or guarantee any financial, legal, tax, or accounting advice or advice regarding the suitability, profitability, or potential value of any particular investment, security, or information source. Ubika and/or its affiliates and/or their respective officers, directors or employees may from time to time acquire, hold or sell securities and/or commodities and/or commodity futures contracts in certain underlying companies mentioned in this site and which may also be clients of Ubika's affiliates. In such instances, Ubika and/or its affiliates and/or their respective officers, directors or employees will use all reasonable efforts to avoid engaging in activities that would lead to conflicts of interest and Ubika and/or its affiliates will use all reasonable efforts to comply with conflicts of interest disclosures and regulations to minimize the conflict.