Plug Power Inc. (NASDAQ:PLUG) is using its Hydrogen Fuel Cells to provide a sustainable and reliable energy source
SmallCapPower | August 7, 2019: Plug Power Inc. (NASDAQ:PLUG) is a leading provider of cost-effective hydrogen and fuel cell power solutions that aim to increase productivity, decrease operating costs and reduce carbon footprints. The Company's signature solution, GenKey, provides customers with a turnkey solution for industrial machinery, such as forklifts. Plug Power's product offerings can be found at the retail locations of its nine partners. The Company has shipped more than 25,000 GenDrive units. A few of Plug Power's customers include Amazon.com, Walmart, BMW, IKEA and Mercedes-Benz, among others. To learn more about the Company visit its corporate website.
Investment Highlights
Plug Power's sustainable offerings are on trend with the growing demand of consumers. A study of 30,000 consumers in 60 countries showed that 45% of them said that a company's commitment to sustainable initiatives could sway a purchase in favour of their products (Nielsen, 2015). This provides strong incentive for companies to switch to green energy sources, such as the ones Plug Power offers.
Long-term contracts with Amazon.com and Wal-Mart provide clear revenue visibility. Plug Power has had long-term relationships with Amazon.com and Wal-Mart as key customers, contributing to 22.1% and 44.6% of revenues in F2018, respectively. As corporate sustainability increasingly becomes a growing trend in the U.S., revenues are supported by AMZN and WMT, with transaction agreements for a potential $1.2B in purchase orders within the next eight years.
The Company's clean and reliable alternative energy source also offers its customers scalability and lower operational costs. By eliminating battery change out, Plug's products can lower operational costs by 3%-5%, due to the improved refueling speed. Additionally, the Company's products help increase productivity with higher throughput per shift, increasing capacity by 5%-15%. Plug Power is focused mainly on the material handling market (distribution centers), which management estimates has a total market size of ~$30B.
Plug Power's ProGen hydrogen engines has allowed the Company to enter the electric vehicle market. The international market for electric vehicles is expected to grow at a CAGR of 18.9% during 2017-2023 (MarketWatch, 2019). Plug Power's battery provides advantages for applications that have high-asset utilization and are used for long-ranges. Already, the Company has installed its ProGen hydrogen engine technology as a trial in one of FedEx's delivery trucks. Currently, the zero-emission vehicle has performed standard delivery services in New York's States Capital region and has covered over 17,500 miles successfully.
Description of Hydrogen Fuel Cells
A hydrogen fuel cell combines hydrogen and oxygen to produce electricity with by-products of water and heat. The battery is composed of an anode, a cathode and electrolyte membrane. The proton exchange membrane fuel cell works by passing hydrogen through the anode side and oxygen through the canoed side. The hydrogen is split into electrons and protons and the protons then pass through the electrolyte membrane and the electrons are forced through a circuit. This generates an electric current and excess heat. The energy that is formed through this process can be used to power anything, including commercial vehicles and drones.
Product Offerings
The Company offers a range of turnkey services that effectively implement the hydrogen and fuel cell adoption process. It includes the following product offerings:
Figure 1: GenDrive Fuel-Cell Units in Forklifts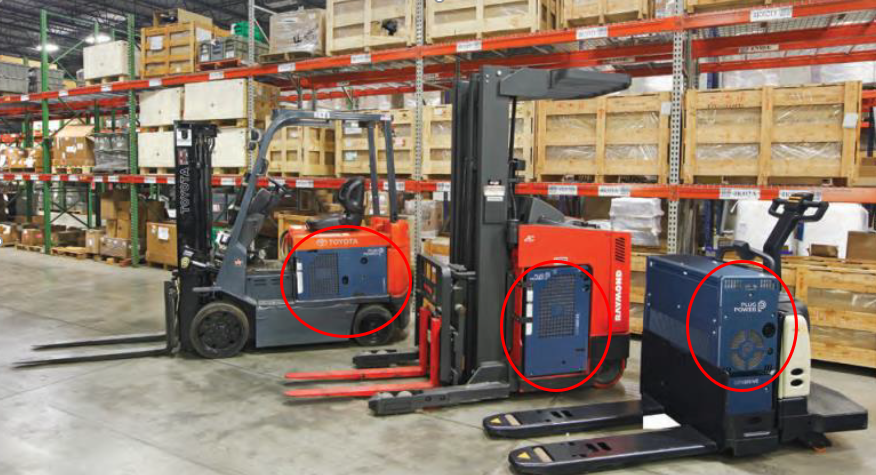 Source: Company Reports
GenDrive: Is Plug Power's flagship product and is a fuel cell power that is used in material handling applications, which aims to replace lead-acid batteries in lift trucks. It helps to avoid energy consuming and costly battery changes. The Company targets industrial mobility applications at multi-shift, high-volume manufacturing distribution sites (forklifts and other industrial pallet moving vehicles powered by batteries).
Figure 2: GenFuel unit for Infrastructure Applications
Source: Company Reports
Genfuel: Represents Plug Power's hydrogen fueling delivery system and offers a full suite of fueling solutions for material handling and stationary power customers. Also ensures hydrogen is always on site in order to prevent interruptions in operations.
Figure 3: GenSure Backup Power Station
Source: Company Reports
GenSure: Is a fuel cell offered for stationary power applications that provides a predictable system monitoring and reliable solution when compared to a traditional generator. Plug Power is primarily targeting markets including telecommunications, railroad, utility, and government markets.
ProGen: Fuel cell engines that are designed for independent companies to implement in their motive and stationary products, which is currently under development. Target markets include logistics vehicles, range extenders (electric vehicles), backup power, ground support equipment, and passenger vehicles.
Figure 4: Plug Power Notable Customers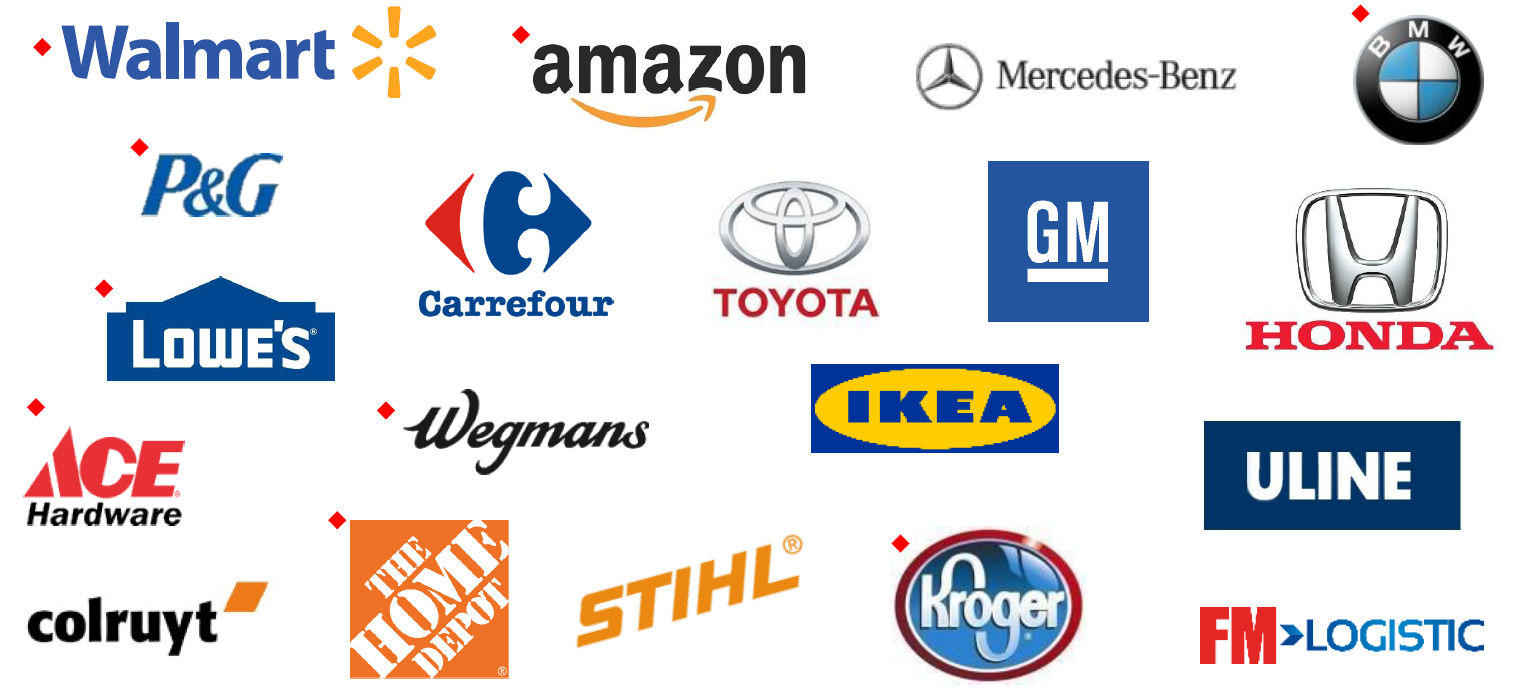 Source: Company Reports
Overview of Financial Performance
During Q1/19, Plug Power closed a new $100M debt facility that will be used to fund the 2019 pipeline and beyond. Q1/19 gross billings were down 30% at $18.6M from $26.4M in Q1/18. Gross billing was impacted by end of quarter project timing and revenue recognition. This can be seen in the higher inventory balance of $65.5M when compared to Q1/18's $47.3M.
In its Q1/19 financial results, the Company provided 2019 gross billing guidance of $235-$245M. The Company shipped 526 GenDrive units in Q1/19 with 94 recognized as revenue, which can be compared to Q1/18, which shipped 335 units with 304 recognized as revenue. Additionally, Plug Power has 72 sites under fuel delivery contracts as of the end of Q1/19, which is up 11 sites since Q1/18.
Shares of Plug Power ended Tuesday's trading session nearly 1% higher at US$2.15. Plug Power stock trades at a market cap of US$522.7 million.
To read our full disclosure, please click on the button below:
The Content contained on this page (including any facts, views, opinions, recommendations, description of, or references to, products or securities) made available by SmallCapPower/Ubika Research is for information purposes only and is not tailored to the needs or circumstances of any particular person. Any mention of a particular security is merely a general discussion of the merits and risks associated there with and is not to be used or construed as an offer to sell, a solicitation of an offer to buy, or an endorsement, recommendation, or sponsorship of any entity or security by SmallCapPower/Ubika Research. The Reader should apply his/her own judgment in making any use of any Content, including, without limitation, the use of any information contained therein as the basis for any conclusions. The Reader bears responsibility for his/her own investment research and decisions. Before making any investment decision, it is strongly recommended that you seek outside advice from a qualified investment advisor. SmallCapPower/Ubika Research does not provide or guarantee any financial, legal, tax, or accounting advice or advice regarding the suitability, profitability, or potential value of any particular investment, security, or information source. Ubika and/or its affiliates and/or their respective officers, directors or employees may from time to time acquire, hold or sell securities and/or commodities and/or commodity futures contracts in certain underlying companies mentioned in this site and which may also be clients of Ubika's affiliates. In such instances, Ubika and/or its affiliates and/or their respective officers, directors or employees will use all reasonable efforts to avoid engaging in activities that would lead to conflicts of interest and Ubika and/or its affiliates will use all reasonable efforts to comply with conflicts of interest disclosures and regulations to minimize the conflict.