New Found Gold Corp. (TSXV:NFG) hit one of the highest-grade holes in Canadian history on the first try, writes Bob Moriarty
Bob Moriarty | March 9, 2021 | SmallCapPower: In the wild, animals tend to stick together because there is safety in being part of the herd. In investing the opposite is true. If you go to a party or are standing in line at the supermarket and everyone is talking about real estate or Tesla, or Bitcoin or even gold, that means it's time to sell. When the entire herd knows something there is no investment opportunity.
(The following is an article originally published on 321gold.com on February 24, 2021)
I make the important point in my investment books that you do not need to know anything about any investment if you understand human psychology. You only make money when others insist on losing it. Do not ever be part of any herd; it is dangerous to your financial health.
I have reported on New Found Gold Corp. (TSXV:NFG) before. Located in Newfoundland, they hit one of the highest-grade holes in Canadian history on the first try. That hole showed 92.86 g/t Au over 19.0 meters including 285.2 g/t Au over 6.0 meters.
NFG owns 100% of the Queensway project that shows about 85 km of strike length. The Queensway project is just a few miles from the major airport at Gander. The Trans-Canada Highway bisects the project and three high voltage power lines cross the property.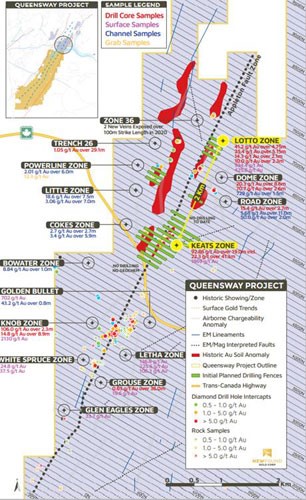 NFG raised a bunch of money and began a 200,000-meter drill program. That's just to start. They know they have the goods. I have shown a map of Queensway below showing the drill intercepts that have been released. The two primary focus targets for now are Lotto to the north by maybe 2 km and Keats to the south.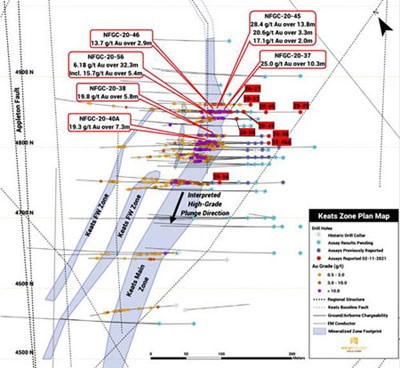 The first drill holes released were from Lotto but the Keats zone was where the initial bonanza hole was drilled. So far NFG has released results from twenty-five holes at Keats. Twenty-two of those hit the high-grade zone they were targeting. In gold prospecting, geologists often will use a term called gram thickness or gram meters. It is the grade in grams times the length of the intercept. Anything over 100 is considered bonanza grade. NFG missed on only six of the twenty-two that hit the intended structure. Those are remarkable intercepts.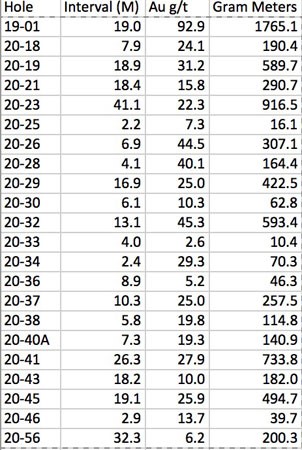 On February 23rd, New Found Gold released an extraordinary hole; one that I suspect most investors will skip over or miss the significance. In hole 21-100 NFG intercepted an incredible 224.7 g/t Au over 2.45 meters.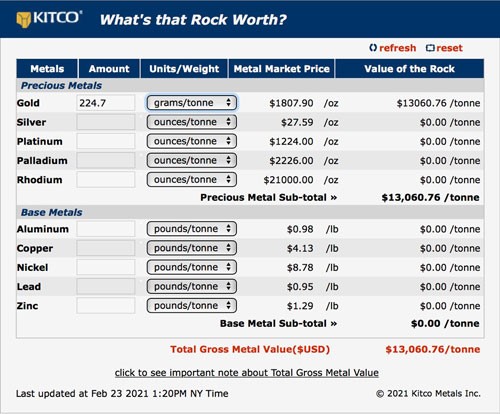 I worked out the gram meters for that hole and it showed 550.5 gram/meters. There have only been five holes total that reported a higher grade. But this hole wasn't from Keats where the first bonanza hole was pegged. This hole is from the Lotto zone 2 km north of Keats. Lotto and Keats don't actually join; the structures are parallel but distinct. But a $13,000 hole over 2.45 meters is going to add a lot of ounces in a hurry. That's over seven ounces to the tonne gold.
I worked out some very rough numbers for Keats because that's where the best holes were up until now. If you use a 260 meter strike with a 150 meter vertical dimension and 15 meters width and a specific gravity of 2.75 with an average of one ounce per ton, you get a SWAG of 1.6 million ounces of gold. Where it gets interesting is if Lotto works out the same. NFG will have an idea soon; they have five drills turning now and three more arriving soon.
NFG is going to be a highly volatile stock. 81% of the shares are in the strongest of strong hands between management, insiders and institutions. That means it wouldn't take much to move it up or down. As I have recommended many times in the past, learn to think for yourself if your intent is to make money. You can't make money investing with the herd, they always lose money. Buy when NFG is cheap feel free to trade it if it gets too stupid. It will go up and down violently. Don't get shaken out.
Right now New Found Gold and Great Bear look to be the biggest potential juniors in Canada. Both have giant drill programs. My only worry about NFG drilling on the island of Newfoundland is that if they poke too many holes, the island may sink.
NFG is an advertiser. I have bought shares so naturally I am biased. Do your own due diligence. There is no limit to where this company could go.
To read our full disclosure, please click on the button below:
The Content contained on this page (including any facts, views, opinions, recommendations, description of, or references to, products or securities) made available by SmallCapPower/Ubika Research is for information purposes only and is not tailored to the needs or circumstances of any particular person. Any mention of a particular security is merely a general discussion of the merits and risks associated there with and is not to be used or construed as an offer to sell, a solicitation of an offer to buy, or an endorsement, recommendation, or sponsorship of any entity or security by SmallCapPower/Ubika Research. The Reader should apply his/her own judgment in making any use of any Content, including, without limitation, the use of any information contained therein as the basis for any conclusions. The Reader bears responsibility for his/her own investment research and decisions. Before making any investment decision, it is strongly recommended that you seek outside advice from a qualified investment advisor. SmallCapPower/Ubika Research does not provide or guarantee any financial, legal, tax, or accounting advice or advice regarding the suitability, profitability, or potential value of any particular investment, security, or information source. Ubika and/or its affiliates and/or their respective officers, directors or employees may from time to time acquire, hold or sell securities and/or commodities and/or commodity futures contracts in certain underlying companies mentioned in this site and which may also be clients of Ubika's affiliates. In such instances, Ubika and/or its affiliates and/or their respective officers, directors or employees will use all reasonable efforts to avoid engaging in activities that would lead to conflicts of interest and Ubika and/or its affiliates will use all reasonable efforts to comply with conflicts of interest disclosures and regulations to minimize the conflict.