Neo Lithium Corp. (TSXV:NLC) is poised to become the world's next major producer of lithium, according to Keith Schaefer
Keith Schaefer, Investing Whisperer | November 24, 2020 | SmallCapPower: Neo Lithium Corp. (TSXV:NLC) is the lithium stock that has EVERYTHING that I'm looking for in a junior resource stock.  I strongly believe that Neo Lithium (or whomever buys them) is the world's next major producer of lithium — the most important commodity for the next 30 years.
(The following article was originally published on investingwhisperer.com)
Yesterday I laid out the bullish happenings in lithium happening right now:
Supply coming down (Aussie hard rock spodumene mines going bankrupt)
EV sales in Europe are soaring again
Lithium prices moved up 20% in October in China
Lithium stocks around the world are hitting 52 week highs
Neo Lithium has THE BEST asset on many metrics investors care about:
1 – Neo Lithium's TRES QUEBRADAS (TQ) asset is the single largest undeveloped lithium brine project on the planet (7th overall)
Hard rock spodumene lithium assets are going bankrupt. Brine is less capital intensive, and simple, large lithium brine projects are few and far between.  That makes them highly coveted and a world with exploding lithium demand.
2 – TQ is the 3rd highest grade project globally
3 – TQ has the absolute lowest impurities of any lithium brine property in the world.
4 – This allows for NLC to use smaller ponds (50% of capex) so it's no surprise they have the lowest capex at $319 million
5 – Lowest impurities also means lowest operating cost (opex) at $2914/t (NLC's lithium will sell for >$10,000 per tonne!)
6 – Payback of just 22 months—and the TQ Pre-Feasibility says it will produce for 35 years!
But it actually gets better (twice!).
Because NLC (or whomever buys them) can easily increase lithium production by drilling deeper into the TQ deposit.  They know the lithium is there, but on a 35 year mine life that doesn't improve their NPV (which only counts the first 10 years cash flow).
NLC actually trades at the lowest valuation of its peer group, despite all the superlatives above—see this slide from the company's powerpoint: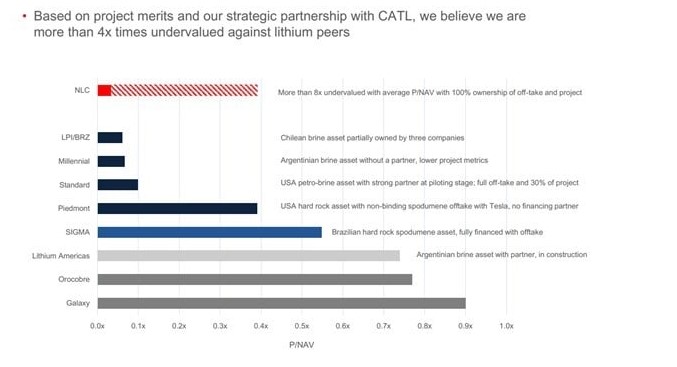 This is the chart that made me buy the stock. Folks, these are the plays I DREAM ABOUT.  The best asset in its class at the lowest valuation?  That's why I own A LOT of stock.
But like I said yesterday—don't take my word for it.  Look no further than Neo Lithium's newest investor – Chinese company CATL (Contemporary Amperex Technology) — the single largest battery manufacturer in the world.
CATL is manufacturing EV batteries at a ferocious pace.  They have doubled battery production every year for five years in a row—that's a Henry Ford kind of industrial achievement.
When you are rapidly growing your battery production you are also rapidly growing your need for lithium.
That lithium need is only going to keep growing…
I want to stress here—CATL is NOT a partner.  They have no interest in the TQ project. They have no sweetheart offtake deal.  NLC still owns 100% of the asset and the offtake possibilities.
CATL came is a simple equity investor—at the time their investment was above market.  (LAC went to US$17 with only 50% ownership of its Cauchari asset!)
Honestly, I don't think I've ever invested in a junior that ticks SO MANY boxes—lowest capex, lowest opex, a CEO as largest single shareholder, $35 M cash, under 100 M shares out..
CATL now holds 8% of Neo Lithium's shares and their cash puts Neo Lithium's treasury at CAD$35 million.
CEO Waldo Perez believes that they are now fully funded—that means no dilution—right up until capex.  As the single largest retail shareholder, Perez has a lot of incentive to keep dilution low.
That's it folks.  The best and the cheapest.  Thank you Mr. Market for this opportunity.
I have now told you all need to know about my thoughts on Neo Lithium as an investment.  When I can buy what I think is the best asset at what I think is the lowest price, I get excited.
But I haven't told you about Waldo yet—the CEO who not only found TQ, but also Cauchari when he was at Lithium Americas. He will be personally responsible for the next 10-20% of lithium to come online in the world!
When he found Tres Quebradas, he was actually looking for gold high in the Andes.  But as he walked by a remote but well known lake—he noticed there was no vegetation of any kind around it. He dipped his hand in the lake—it was viscous, and salty.
He thought LITHIUM right away.  Now, everybody knows lithium isn't in lakes, which is why TQ was still undiscovered. But this is the only lithium lake in South America.
Over the next couple years he & his team developed it into a world-class asset and caused the industry to re-draw the map of the Lithium Golden Triangle.
And then, on top of all that, he financed the company at close to the top of the market in 2017, at $1.90.
So not only is his nose for geology very good, his sense of market timing is as well!
Conclusion: I think I've explained why I'm long the stock–asset, funding, management all best-of-breed. The company's own valuation chart–publicly available–speaks for itself.  IMHO, investors could not ask for a better set up in the red-hot lithium sector.
Disclosure: Keith Schaefer is long 100,000 shares of Neo Lithium.
Neo Lithium Corp Management has reviewed and sponsored this article. The information in this newsletter does not constitute an offer to sell or a solicitation of an offer to buy any securities of a corporation or entity, including U.S. Traded Securities or U.S. Quoted Securities, in the United States or to U.S. Persons. Securities may not be offered or sold in the United States except in compliance with the registration requirements of the Securities Act and applicable U.S. state securities laws or pursuant to an exemption therefrom. Any public offering of securities in the United States may only be made by means of a prospectus containing detailed information about the corporation or entity and its management as well as financial statements. No securities regulatory authority in the United States has either approved or disapproved of the contents of any newsletter.
Keith Schaefer is not registered with the United States Securities and Exchange Commission (the "SEC"): as a "broker-dealer" under the Exchange Act, as an "investment adviser" under the Investment Advisers Act of 1940, or in any other capacity. He is also not registered with any state securities commission or authority as a broker-dealer or investment advisor or in any other capacity.
To read our full disclosure, please click on the button below:
The Content contained on this page (including any facts, views, opinions, recommendations, description of, or references to, products or securities) made available by SmallCapPower/Ubika Research is for information purposes only and is not tailored to the needs or circumstances of any particular person. Any mention of a particular security is merely a general discussion of the merits and risks associated there with and is not to be used or construed as an offer to sell, a solicitation of an offer to buy, or an endorsement, recommendation, or sponsorship of any entity or security by SmallCapPower/Ubika Research. The Reader should apply his/her own judgment in making any use of any Content, including, without limitation, the use of any information contained therein as the basis for any conclusions. The Reader bears responsibility for his/her own investment research and decisions. Before making any investment decision, it is strongly recommended that you seek outside advice from a qualified investment advisor. SmallCapPower/Ubika Research does not provide or guarantee any financial, legal, tax, or accounting advice or advice regarding the suitability, profitability, or potential value of any particular investment, security, or information source. Ubika and/or its affiliates and/or their respective officers, directors or employees may from time to time acquire, hold or sell securities and/or commodities and/or commodity futures contracts in certain underlying companies mentioned in this site and which may also be clients of Ubika's affiliates. In such instances, Ubika and/or its affiliates and/or their respective officers, directors or employees will use all reasonable efforts to avoid engaging in activities that would lead to conflicts of interest and Ubika and/or its affiliates will use all reasonable efforts to comply with conflicts of interest disclosures and regulations to minimize the conflict.