Could Earth Alive Clean Technologies (CSE:EAC) disrupt the chemical fertilizer industry?
SmallCapPower | September 14, 2016: Earth Alive Clean Technologies (CSE:EAC) could very well be the company that seriously disrupts the chemical fertilizer industry. With a stock price that has climbed more than 100% since this time last year, and expected registration for its organic fertilizer in Ecuador, El Salvador and Costa Rica coming in Q4, this company and its share price could see tremendous growth before year's end. EAC's products, Soil ActivatorTM (patent pending) and EA1 dust suppressant are both certified organic by Ecocert, one of the largest organic certification company in the world.
Recent Highlights:
On August 29th, EAC announced the registration of its Soil ActivatorTM in Columbia signalling the beginning of commercial sales. This continues the string of registrations that the product has received in Latin America since February when they signed a distribution deal with Brenntag, bringing the total number to six.
Also in August, EAC signed an exclusive multi-year distribution deal with Brenntag Canada for its EA1 dust suppressant, and has begun full-scale testing with Tata Steel Minerals Canada at the Quebec- Labrador mine site. If the results of the first contract are any indication of what can be expected here, EA1 suppressant should see purchases roll in very soon once results of the test are published.
Recent trials in Chile using avocados showed that trees treated with Soil ActivatorTM, produced avocados that weighed on average 16% more than those not treated with it. In addition, the number of treated trees that produced grade 1 fruits, which are sold for a higher price, was statistically significant. If these results can be duplicated on a large scale and outside of trials, it will certainly further validate the product's capabilities.
CIBC World Markets, Scotia Capital and Desjardins Securities bought 23,000 shares on September 12th. The purchase of the shares by large financial institutions could mean that they realize the growth potential of this stock and foresee some near-future returns.
Outlook for Organic Agriculture Products
Since 1997, organic food sales in the U.S have grown over 1100% from US$3.6 billion to over US$43 billion in 2015 and now account for nearly five percent of all food sales, yet organic farm land accounts for less than 1% of cultivated land in the U.S. This trend is expected to continue as more research is released highlighting the environmental and health benefits of organic farming practices.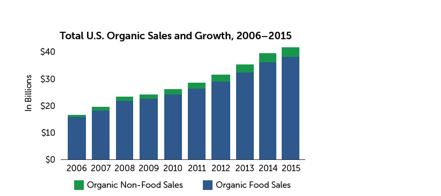 Source: Click Here for PDF >>
One of the biggest challenges that the organic food industry faces currently is that the supply of organic foods cannot keep up with demand. This is due, in part, to the low amount of organic farmland but also the difference in yield that can be attained in conventional vs. organic farming. Studies have shown that the average gap in yield size averages 19% but that gap does differ amongst crop types however. If best practices are implemented that gap can be reduced to 8 or 9%. Based on the research and trials that EAC has completed thus far, its Soil ActivatorTM, could be the product that closes that gap further, if not completely.

Earth Alive Clean Technologies- Fundamentals
When reviewing the financial statements, it is hard to not question their current state. EAC does have a healthy quick ratio of 2.34, however with the current average burn rate of $519,941.83, they will need to raise more funds in six to nine months. That being said, this past quarter saw a comprehensive loss larger than normal due to a contingent purchase consideration for $250,000, which was payable as part of the LFP acquisition and matured on the two-year anniversary of the acquisition. EAC's Debt to Equity ratio is 3.72 so it is quite leveraged, however none of the long-term debt is fixed-income but rather a large amount of convertible debentures, which can be seen as a positive. Upon maturity this allows the company to convert the debt to shares and dilute current shareholder value if it cannot pay back the loan. Although dilution of the shares is not ideal for investors, the debentures could save the company from entering into default and liquidating its assets, thus giving EAC more time to continue its commercialization efforts.
Sentiment Moving Forward
Although the financials aren't the most encouraging for Earth Alive Clean Technologies, as a company in the early stages of its commercialization, the recent momentum that the company has achieved will likely continue in the current market, further increasing the stock's value. With the stock price jumping on every government registration received and the continued positive results from product testing, it is hard to ignore the potential this company holds. The agriculture industry has been plagued with harmful chemicals since before Rachel Carson released Silent Spring in 1962. However, if the recent success does continue it could start a paradigm shift as the public continues to demand more environmentally-friendly and organically-produced food.
The Content contained on this page (including any facts, views, opinions, recommendations, description of, or references to, products or securities) made available by SmallCapPower/Ubika Research is for information purposes only and is not tailored to the needs or circumstances of any particular person. Any mention of a particular security is merely a general discussion of the merits and risks associated there with and is not to be used or construed as an offer to sell, a solicitation of an offer to buy, or an endorsement, recommendation, or sponsorship of any entity or security by SmallCapPower/Ubika Research. The Reader should apply his/her own judgment in making any use of any Content, including, without limitation, the use of any information contained therein as the basis for any conclusions. The Reader bears responsibility for his/her own investment research and decisions. Before making any investment decision, it is strongly recommended that you seek outside advice from a qualified investment advisor. SmallCapPower/Ubika Research does not provide or guarantee any financial, legal, tax, or accounting advice or advice regarding the suitability, profitability, or potential value of any particular investment, security, or information source. Ubika and/or its affiliates and/or their respective officers, directors or employees may from time to time acquire, hold or sell securities and/or commodities and/or commodity futures contracts in certain underlying companies mentioned in this site and which may also be clients of Ubika's affiliates. In such instances, Ubika and/or its affiliates and/or their respective officers, directors or employees will use all reasonable efforts to avoid engaging in activities that would lead to conflicts of interest and Ubika and/or its affiliates will use all reasonable efforts to comply with conflicts of interest disclosures and regulations to minimize the conflict.