The Canadian stocks on our list could get a spark from the growing electric vehicle (EV) industry
SmallCapPower | June 20, 2022: Over the past couple years, the EV industry has experienced exponential growth due to strong investment support and favourable government help. The IEA estimates the US government will spend US$14 billion on direct purchase incentives and tax deductions for EVs in 2021, representing 25% year-over-year growth. By 2025, there will be over 10 million electric vehicles on the roads, with battery electric models driving the growth. Today we've discovered three Canadian stocks developing and deploying technology for use in the growing EV industry.
*Share price data and other metrics as of June 17, 2022

Nano One Materials Corp. (TSX:NANO) – $2.67
Battery Materials
Nano One Materials is a Canada-based company engaged in developing processing technology for the production of battery materials used in electric vehicles, energy storage, and consumer electronics. It is a technology company with a patented process for the low-cost production of cathode materials used in lithium-ion batteries.
Market Cap: $256.7M
7-Day Return:  -6.2%
30-Day Return: +75.3%
30-Day Average Trading Volume: 350,836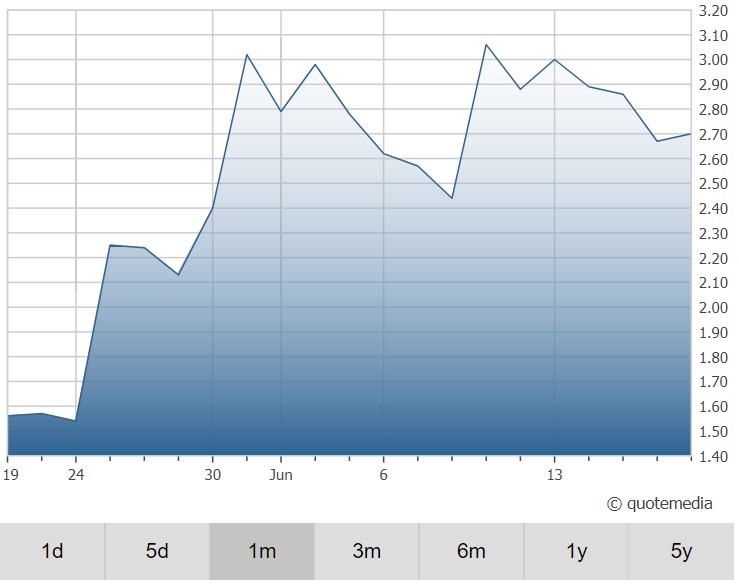 Lion Electric Co. (TSX:LEV) – $5.73
Zero Emission Vehicles
Lion Electric is a manufacturer of zero-emission vehicles. It creates, designs and manufactures all-electric class 5 to class 8 commercial urban trucks and all-electric buses and minibuses for the school, paratransit and mass transit segments. Lion is a North American company engaged in electric transportation and designs, builds and assembles all its vehicles components, including chassis, battery packs, truck cabins and bus bodies.
Market Cap: $862.6M
7-Day Return:  -11.0%
30-Day Return: -13.8%
30-Day Average Trading Volume: 503,292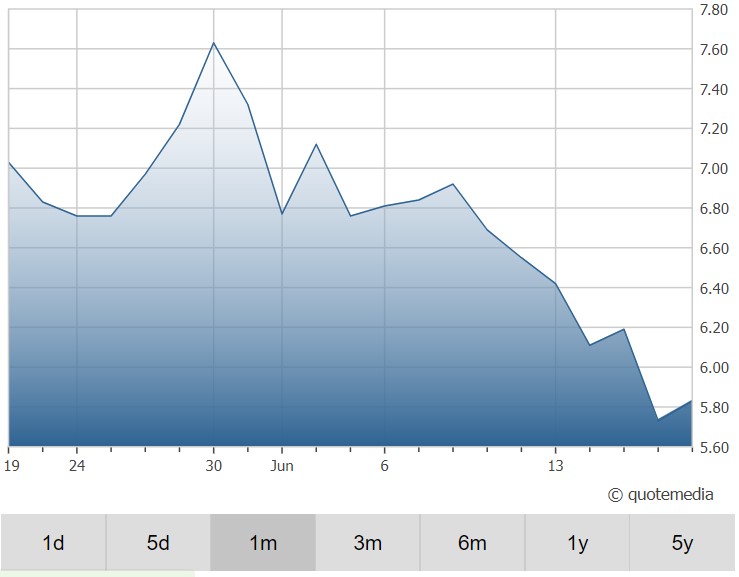 Taiga Motors Corp. (TSX:TAIG) – $3.47
Electric Off-Road Vehicles
Taiga was born to electrify the off-road segment, the most challenging and demanding vehicle category. As a trailblazing off-road EV manufacturer, its product line includes mountain, trail, and utility snowmobiles, as well as personal watercraft models.
Market Cap: $112.1M
7-Day Return:  -9.6%
30-Day Return:  -17.9%
30-Day Average Trading Volume: 29,142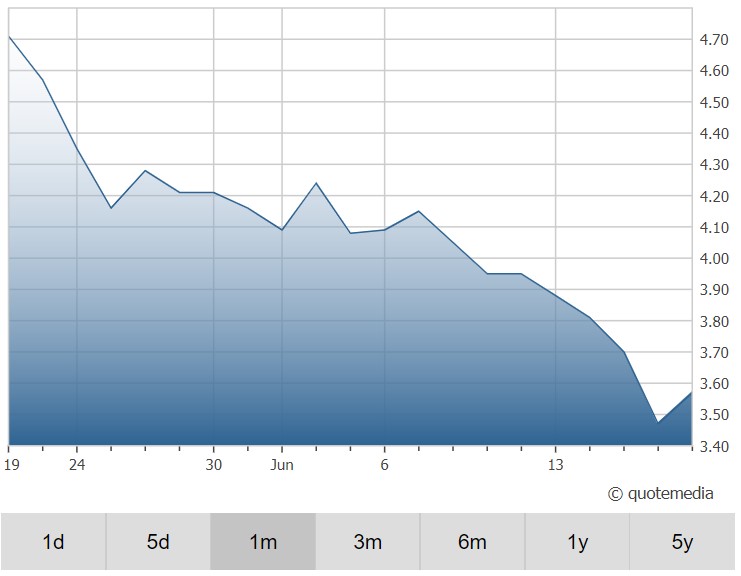 To read our full disclosure, please click on the button below:
The Content contained on this page (including any facts, views, opinions, recommendations, description of, or references to, products or securities) made available by SmallCapPower/Ubika Research is for information purposes only and is not tailored to the needs or circumstances of any particular person. Any mention of a particular security is merely a general discussion of the merits and risks associated there with and is not to be used or construed as an offer to sell, a solicitation of an offer to buy, or an endorsement, recommendation, or sponsorship of any entity or security by SmallCapPower/Ubika Research. The Reader should apply his/her own judgment in making any use of any Content, including, without limitation, the use of any information contained therein as the basis for any conclusions. The Reader bears responsibility for his/her own investment research and decisions. Before making any investment decision, it is strongly recommended that you seek outside advice from a qualified investment advisor. SmallCapPower/Ubika Research does not provide or guarantee any financial, legal, tax, or accounting advice or advice regarding the suitability, profitability, or potential value of any particular investment, security, or information source. Ubika and/or its affiliates and/or their respective officers, directors or employees may from time to time acquire, hold or sell securities and/or commodities and/or commodity futures contracts in certain underlying companies mentioned in this site and which may also be clients of Ubika's affiliates. In such instances, Ubika and/or its affiliates and/or their respective officers, directors or employees will use all reasonable efforts to avoid engaging in activities that would lead to conflicts of interest and Ubika and/or its affiliates will use all reasonable efforts to comply with conflicts of interest disclosures and regulations to minimize the conflict.