The Canadian dividend stocks we've uncovered have yields over 4% and low payout ratios
SmallCapPower | June 15, 2022: During periods of elevated stock-market uncertainty, risk is mitigated through low volatility stocks with steady dividends. Today we have discovered three Canadian dividend stocks with yields over 4% and low payout ratios, which could mean a dividend hike in the future.
*Share price data and other metrics as of June 10, 2022

Cascades Inc. (TSX:CAS) – $10.29
Paper Products
Cascades, along with its subsidiaries, produces, converts and markets packaging and tissue products composed mainly of recycled fibres. The Company is organized into four main business segments: Containerboard, Boxboard Europe, Specialty Products (which constitutes packaging products), and Tissue Papers. The business activity of the company functions in Canada, the United States, Italy, and other countries. Its customer base includes food processing companies, the maintenance industry, accommodations, and housing industry, micro-businesses, and boutiques.
Market Cap: $1,023.1M
7-Day Return:  -2.9%
30-Day Return -3.7%
30-Day Average Trading Volume: 336,246
Dividend Payout Ratio: 39.1%
Dividend Yield: 4.7%
CI Financial Corp. (TSX:CIX) – $15.42
Financial Services
CI Financial is a diversified provider of wealth management products and services, primarily in the Canadian market. The Company had C$129.2 billion in fund assets under management, and another C$221.5 billion in assets under advisement, at the end of April 2022, making it one of the largest nonbank affiliated asset managers in Canada. CI Financial operates primarily through CI Global Asset Management, which offers a broad selection of investment funds. On the wealth management side, the Company operates through CI Assante Wealth Management, Aligned Capital Partners, CI Private Wealth, as well as a growing group of acquired U.S.-based advisors, providing financial advice primarily to high-net-worth individuals and families.
Market Cap: $2,9463M
7-Day Return:  -5.1%
30-Day Return: +5.3%
30-Day Average Trading Volume: 739,952
Dividend Payout Ratio: 23.2%
Dividend Yield: 4.9%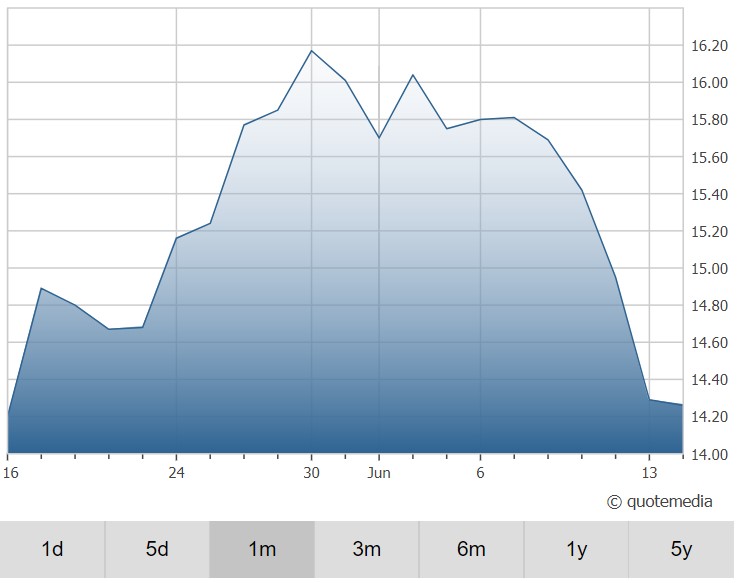 DRI Healthcare Trust (TSX:DHT.UN) – $7.84
Healthcare
DRI Healthcare Trust is an open-ended trust that provides unitholders with differentiated exposure to the anticipated growth in the global pharmaceuticals and biotechnology markets. Its business model is focused on managing and growing a diversified portfolio of pharmaceutical royalties to deliver attractive growth in cash royalty receipts over the long term. Geographically, it has a presence in the United States; European Union; Japan, and rest of the world.
Market Cap: $299M
7-Day Return:  +1.8%
30-Day Return:  +6.9%
30-Day Average Trading Volume: 31,377
Dividend Payout Ratio: 14.6%
Dividend Yield: 5.4%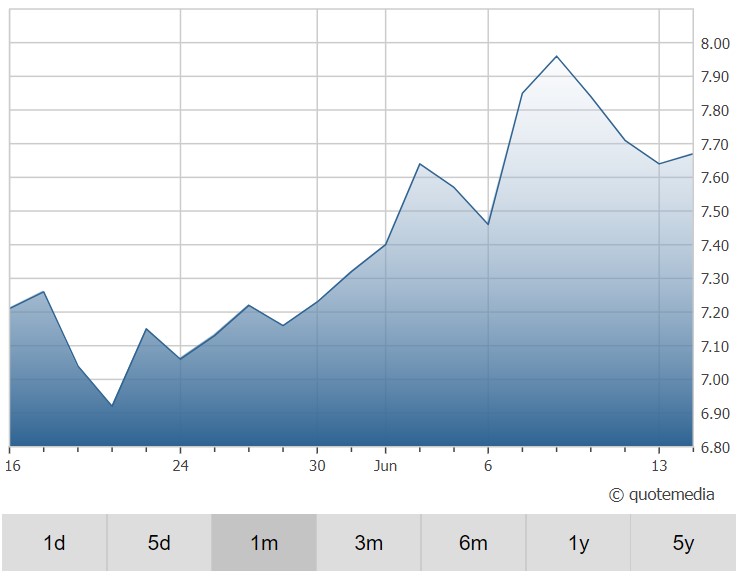 To read our full disclosure, please click on the button below:
The Content contained on this page (including any facts, views, opinions, recommendations, description of, or references to, products or securities) made available by SmallCapPower/Ubika Research is for information purposes only and is not tailored to the needs or circumstances of any particular person. Any mention of a particular security is merely a general discussion of the merits and risks associated there with and is not to be used or construed as an offer to sell, a solicitation of an offer to buy, or an endorsement, recommendation, or sponsorship of any entity or security by SmallCapPower/Ubika Research. The Reader should apply his/her own judgment in making any use of any Content, including, without limitation, the use of any information contained therein as the basis for any conclusions. The Reader bears responsibility for his/her own investment research and decisions. Before making any investment decision, it is strongly recommended that you seek outside advice from a qualified investment advisor. SmallCapPower/Ubika Research does not provide or guarantee any financial, legal, tax, or accounting advice or advice regarding the suitability, profitability, or potential value of any particular investment, security, or information source. Ubika and/or its affiliates and/or their respective officers, directors or employees may from time to time acquire, hold or sell securities and/or commodities and/or commodity futures contracts in certain underlying companies mentioned in this site and which may also be clients of Ubika's affiliates. In such instances, Ubika and/or its affiliates and/or their respective officers, directors or employees will use all reasonable efforts to avoid engaging in activities that would lead to conflicts of interest and Ubika and/or its affiliates will use all reasonable efforts to comply with conflicts of interest disclosures and regulations to minimize the conflict.