The TSX-listed Canadian dividend growth stocks on our list are buying back significant amounts of their own stock
SmallCapPower | June 6, 2022: Stock buybacks occur when corporations purchase their own shares on the stock market. In repurchasing shares, fewer shares are outstanding, which increases earnings per share (positively) and, often, the value of the stock. In repurchasing shares, an organization can demonstrate to investors that it has a high probability of economic stability and enough cash on hand to deal with emergencies. Today we have identified three Canadian dividend growth stocks that are in the process of, or have completed, big stock buybacks.
*Share price data and other metrics as of June 3, 2022
Enbridge Inc. (TSX:ENB) – $59.02
Oil and Gas
Enbridge owns extensive midstream assets that transport hydrocarbons across the U.S. and Canada. Its pipeline network consists of the Canadian Mainline system, regional oil sands pipelines, and natural gas pipelines. The Company also owns and operates a regulated natural gas utility and Canada's largest natural gas distribution company. Finally, the firm has a small renewables portfolio primarily focused on onshore and offshore wind projects.
Market Cap: $94,864.2M
7-Day Return: +0.3%
30-Day Return: +4.4%
30-Day Average Trading Volume: 15,239,836
Dividend Yield: 6.0%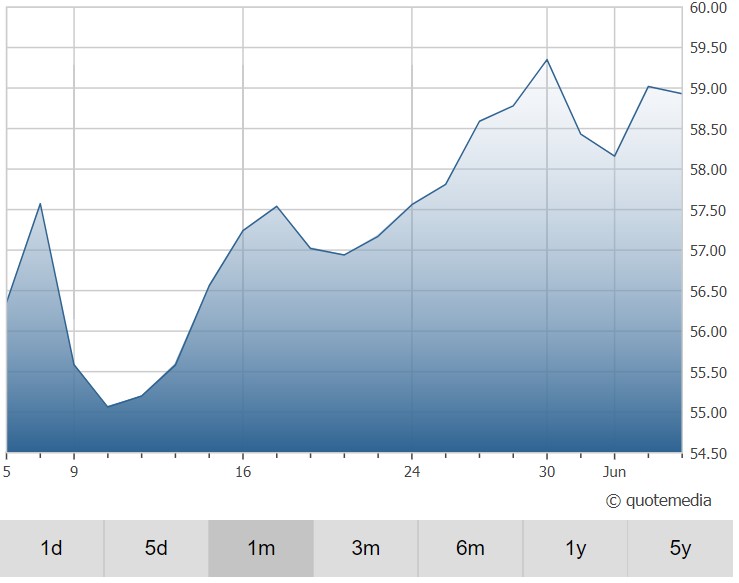 Imperial Oil Ltd. (TSX:IMO) – $69.20
Oil and Gas
Imperial Oil is one of Canada's largest integrated oil companies, focusing on upstream operations, petroleum refining operations, and the marketing of petroleum products. Production averaged 398 thousand barrels of oil equivalent per day in 2020. The Company estimates that it holds 5.2 billion boe of proved and probable crude oil and natural gas reserves. Imperial remains the largest refiner of petroleum products in Canada, operating three refineries with a combined processing capacity of 421 mboe/d.
Market Cap: $46,632.6M
7-Day Return:  -1.9%
30-Day Return: +9.9%
30-Day Average Trading Volume: 1,229,988
Dividend Yield: 2.0%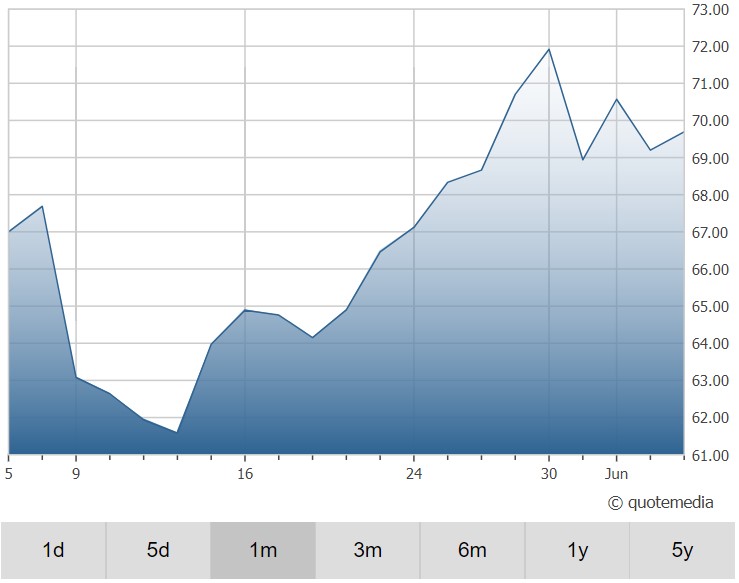 Leon's Furniture Ltd. (TSX:LNF) – $17.16
Furniture
Leon's is a retailer of home furnishings, mattresses, appliances and electronics across Canada. Its retail banners include Leon's, The Brick, United Furniture Warehouse and The Brick Mattress Store. The Company owns a chain of 44 retail furniture stores operating as Leon's Furniture, 114 Brick stores operating as The Brick. United Furniture Warehouse targets the lower to middle income consumer who is willing to exchange branded products and shopping experience for lower prices. As of December 31, 2021, there were 23 United Furniture Warehouse stores in Canada, one of which being a franchise location. The Brick Mattress Store offers specialty mattress locations, which carry extended product lines over and above those typically carried at The Brick locations. The Company operates three showrooms all in the Province of Ontario under the banner Appliance Canada, which sell higher end appliances, electronics, and mattresses. In addition, the Company has 29 franchise groups operating 34 franchised Leon's stores.
Market Cap: $1,131.6M
7-Day Return:  -1.6%
30-Day Return: -6.5%
30-Day Average Trading Volume: 63,168
Dividend Yield: 3.9%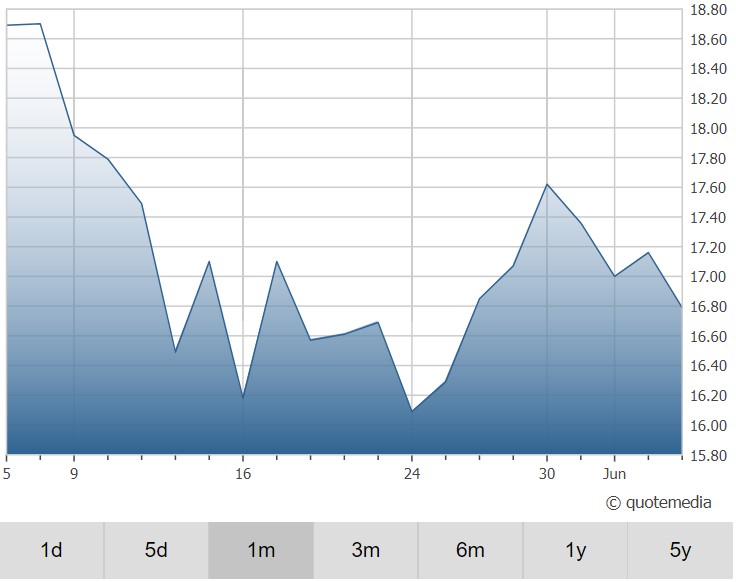 To read our full disclosure, please click on the button below:
The Content contained on this page (including any facts, views, opinions, recommendations, description of, or references to, products or securities) made available by SmallCapPower/Ubika Research is for information purposes only and is not tailored to the needs or circumstances of any particular person. Any mention of a particular security is merely a general discussion of the merits and risks associated there with and is not to be used or construed as an offer to sell, a solicitation of an offer to buy, or an endorsement, recommendation, or sponsorship of any entity or security by SmallCapPower/Ubika Research. The Reader should apply his/her own judgment in making any use of any Content, including, without limitation, the use of any information contained therein as the basis for any conclusions. The Reader bears responsibility for his/her own investment research and decisions. Before making any investment decision, it is strongly recommended that you seek outside advice from a qualified investment advisor. SmallCapPower/Ubika Research does not provide or guarantee any financial, legal, tax, or accounting advice or advice regarding the suitability, profitability, or potential value of any particular investment, security, or information source. Ubika and/or its affiliates and/or their respective officers, directors or employees may from time to time acquire, hold or sell securities and/or commodities and/or commodity futures contracts in certain underlying companies mentioned in this site and which may also be clients of Ubika's affiliates. In such instances, Ubika and/or its affiliates and/or their respective officers, directors or employees will use all reasonable efforts to avoid engaging in activities that would lead to conflicts of interest and Ubika and/or its affiliates will use all reasonable efforts to comply with conflicts of interest disclosures and regulations to minimize the conflict.