The Canadian energy stocks we've dug up have gained more than 14% over the past month
SmallCapPower | May 24, 2022: 2022 has been one of the best years for the oil and gas sector since it was hit by the pandemic in early 2020. As of May, oil and gas is the best-performing S&P 500 sector in 2022 with the S&P Global Oil Index returning 29.5% year-to-date. Today we have drilled down and discovered three attractively valued Canadian energy stocks, with return on equity in the high teens, that have seen some share price momentum over the past month.
*Share price data and other metrics as of May 23, 2022

Tourmaline Oil Corp. (TSX:TOU) – $72.18
Oil and Gas
Tourmaline Oil is a Canadian intermediate crude oil and natural gas exploration and production company focused on long-term growth through an aggressive exploration, development, production and acquisition program in the Western Canadian Sedimentary Basin. Tourmaline's long-term business strategy is to increase shareholder value by building an extensive asset base over two to three core exploration and production areas and exploiting and developing these areas to increase reserves, production and cash flows at an attractive return on invested capital.
Market Cap: $24,474.6M
7-Day Return: +5.8%
30-Day Return: +14.8%
30-Day Average Trading Volume: 1,897,921
ROE: 19.9%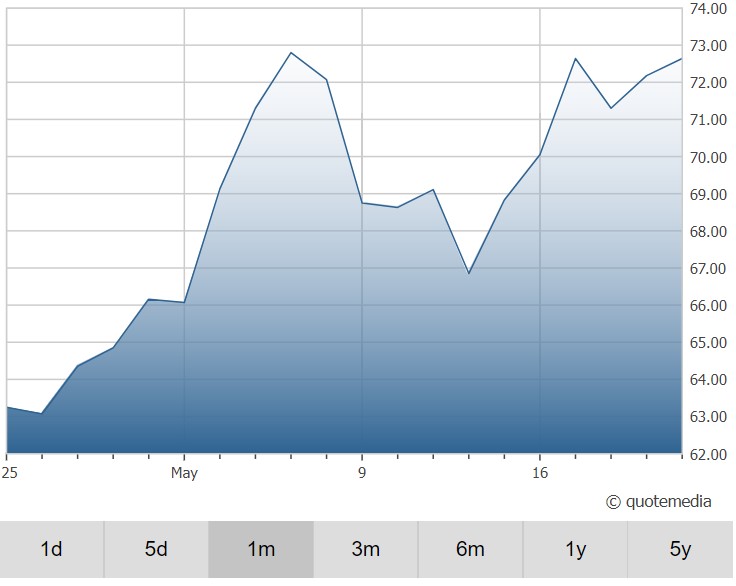 Suncor Energy Inc. (TSX:SU) – $48.57
Oil and Gas
Suncor Energy is an integrated energy company. The Company's operations include oil sands development, production and upgrading, offshore oil and gas, petroleum refining in Canada and the U.S. and its PetroCanada retail and wholesale distribution networks. Suncor is developing petroleum resources while advancing the transition to a low-emissions future through investment in power, renewable fuels and hydrogen. It also conducts energy trading activities focused principally on the marketing and trading of crude oil, natural gas, byproducts, refined products and power.
Market Cap: $56,656.5M
7-Day Return:  +9.3%
30-Day Return: +22.9%
30-Day Average Trading Volume: 10,075,943
ROE: 16.8%

Birchcliff Energy Ltd. (TSX:BIR) – $10.64
Oil and Gas
Birchcliff Energy is an intermediate oil and gas company that explores for, develops, and produces natural gas, light oil, and natural gas liquids. The Company conducts its drilling program in resource plays located in the Peace River Arch region of Alberta. Birchcliff focuses on operating nearly all its high working production, which is surrounded by blocks of high working interest lands where it owns and/or controls the infrastructure. To get the full value out of its natural gas wells, several gas plants are completely owned and operated for gas processing purposes. Natural gas production accounts for the majority of Birchcliff's revenue.
Market Cap: $2,827.9M
7-Day Return: +14.1%
30-Day Return: +14.4%
30-Day Average Trading Volume: 2,335,032
ROE: 22.9%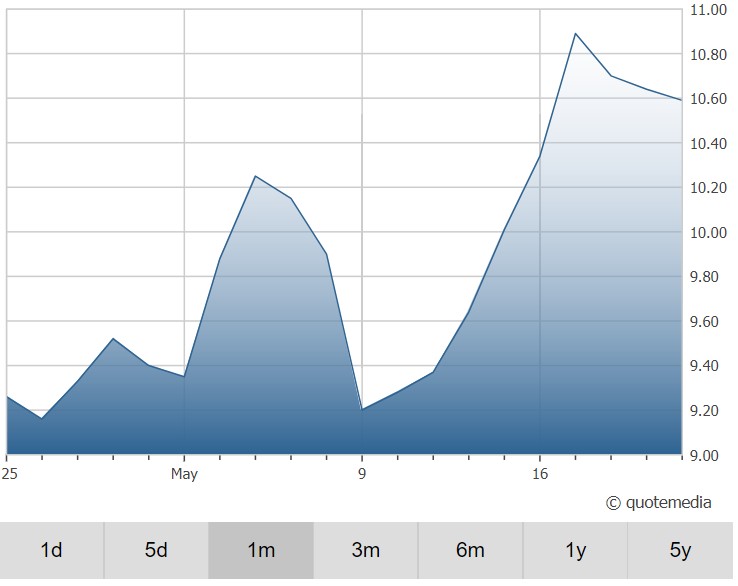 To read our full disclosure, please click on the button below:
The Content contained on this page (including any facts, views, opinions, recommendations, description of, or references to, products or securities) made available by SmallCapPower/Ubika Research is for information purposes only and is not tailored to the needs or circumstances of any particular person. Any mention of a particular security is merely a general discussion of the merits and risks associated there with and is not to be used or construed as an offer to sell, a solicitation of an offer to buy, or an endorsement, recommendation, or sponsorship of any entity or security by SmallCapPower/Ubika Research. The Reader should apply his/her own judgment in making any use of any Content, including, without limitation, the use of any information contained therein as the basis for any conclusions. The Reader bears responsibility for his/her own investment research and decisions. Before making any investment decision, it is strongly recommended that you seek outside advice from a qualified investment advisor. SmallCapPower/Ubika Research does not provide or guarantee any financial, legal, tax, or accounting advice or advice regarding the suitability, profitability, or potential value of any particular investment, security, or information source. Ubika and/or its affiliates and/or their respective officers, directors or employees may from time to time acquire, hold or sell securities and/or commodities and/or commodity futures contracts in certain underlying companies mentioned in this site and which may also be clients of Ubika's affiliates. In such instances, Ubika and/or its affiliates and/or their respective officers, directors or employees will use all reasonable efforts to avoid engaging in activities that would lead to conflicts of interest and Ubika and/or its affiliates will use all reasonable efforts to comply with conflicts of interest disclosures and regulations to minimize the conflict.