Canada's recent infrastructure boom is just beginning and should boost the construction and engineering stocks on our list
SmallCapPower | August 5, 2016: Construction and engineering stocks often benefit from public infrastructure projects as they are contracted for the work. These partnerships between the government and the companies, coupled with the Liberals' recent plans to boost infrastructure, may have a positive impact on the five construction and engineering stocks on our list.

Aecon Group Inc. (TSE:ARE) – $17.00
Construction & Engineering
Aecon Group Inc. is a construction and infrastructure development company that operates through four segments: Infrastructure, Energy, Mining and Concessions. The Infrastructure segment includes all aspects of the construction of both public and private infrastructure in Canada, and on a selected basis, internationally.
Market Cap: 975,321,671
Revenues: 3,279,264,000
Operating Income: 137,030,000
Debt: 373,924,000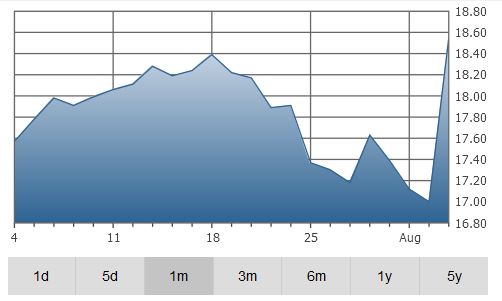 Stuart Olson Inc. (TSE:SOX) – $6.74
Construction & Engineering
Stuart Olson Inc. is a Canada-based construction and industrial services company. Its segments include General Contracting, Commercial Systems, Industrial Services, and Corporate and Other.
Market Cap: 180,112,407
Revenues: 1,111,514,000
Operating Income: 23,829,000
Debt: 117,493,000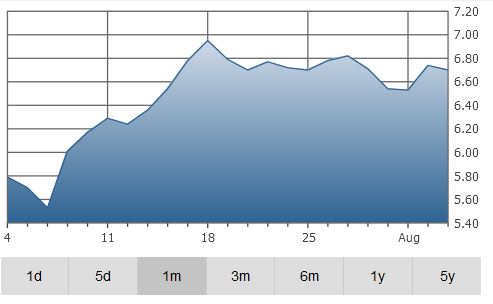 Napec Inc. (TSE:NPC) – $1.17
Construction & Engineering
NAPEC Inc. (NAPEC), formerly CVTech Group Inc., is a Canada-based company, which operates in the energy sector. The Company provides construction and maintenance services to the public utility and heavy industrial markets mainly in Quebec, Ontario and the eastern United States. The Company operates through energy segment. NAPEC and its subsidiaries build and maintain electrical transmission and distribution systems and natural gas networks. The Company also installs gas-powered and electric-powered heavy equipment for utilities, gas-fired industrial power plants and petrochemical facilities in North America.
Market Cap: 215,285,203.21
Revenues: 377,792,000
Operating Income: 7,974,000
Debt: 79,987,000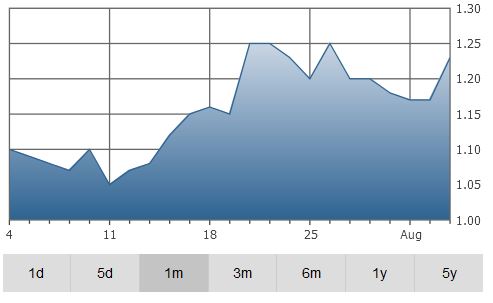 Foraco International SA (TSE:FAR) – $0.38
Construction & Engineering
Foraco International S.A. is a France-based company engaged in the mining, geological and hydraulic drilling sectors. The Company's principle business consists of drilling contracts for companies primarily involved in mining and water exploration. The Company operates in two business segments: Mining and Water.
Market Cap: 114,570,744.63
Revenues: 155,312,355
Operating Income: -12,168,029
Debt: 147,646,567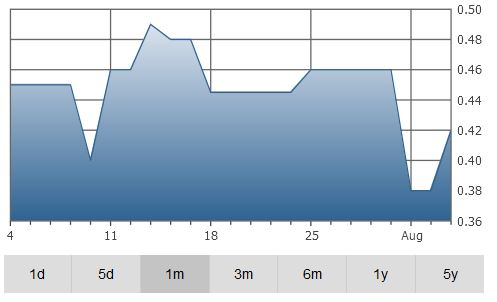 Distinct Infrastructure Group Inc. (CVE:DUG) – $0.125
Construction & Engineering
Distinct Infrastructure Group Inc., formerly QE2 Acquisition Corp., is a utility and telecom infrastructure contractor with capabilities in design, engineering, construction, service and maintenance, and materials management. The Company focuses on the Ontario and Alberta economic landscape of opportunity in infrastructure, utilities and telecommunication. Its services include aerial construction, underground construction, technical services and 3rd party material management.
Market Cap: 32,798,030
Revenues: 35,688,180
Operating Income: 3,133,730
Debt: 31,148,540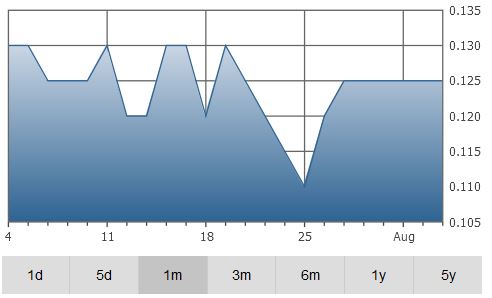 DISCLAIMER
The Content contained on this page (including any facts, views, opinions, recommendations, description of, or references to, products or securities) made available by SmallCapPower/Ubika Research is for information purposes only and is not tailored to the needs or circumstances of any particular person. Any mention of a particular security is merely a general discussion of the merits and risks associated there with and is not to be used or construed as an offer to sell, a solicitation of an offer to buy, or an endorsement, recommendation, or sponsorship of any entity or security by SmallCapPower/Ubika Research. The Reader should apply his/her own judgment in making any use of any Content, including, without limitation, the use of any information contained therein as the basis for any conclusions. The Reader bears responsibility for his/her own investment research and decisions. Before making any investment decision, it is strongly recommended that you seek outside advice from a qualified investment advisor. SmallCapPower/Ubika Research does not provide or guarantee any financial, legal, tax, or accounting advice or advice regarding the suitability, profitability, or potential value of any particular investment, security, or information source. Ubika and/or its affiliates and/or their respective officers, directors or employees may from time to time acquire, hold or sell securities and/or commodities and/or commodity futures contracts in certain underlying companies mentioned in this site and which may also be clients of Ubika's affiliates. In such instances, Ubika and/or its affiliates and/or their respective officers, directors or employees will use all reasonable efforts to avoid engaging in activities that would lead to conflicts of interest and Ubika and/or its affiliates will use all reasonable efforts to comply with conflicts of interest disclosures and regulations to minimize the conflict.