The companies on our list appear to be mispriced as revenues begin to ramp up
SmallCapPower | September 8, 2016: For early-stage companies that have yet to hit scalable profitability, a unique valuation metric used within the industry is Enterprise Value/Revenues. This metric has hovered around 1.5 – 2.0x for the S&P 500. That being said, the stocks on our list today exhibit a valuation multiple below 1.0x, and also have growing revenues.
Figures in CAD millions.

H2O Innovation Inc. (CVE:HEO) – $1.64
Environmental Services & Equipment
H2O Innovation Inc. is a Canada-based company, which is engaged in providing integrated technological water treatment solutions based on membrane filtration technology to municipal, energy and mining end users. The Company is also engaged in delivering drinking water and process water production, and wastewater treatment systems, including related services. It designs water treatment projects for the production of drinking water and industrial process water, the reclamation and reuse of water, and the treatment of wastewater, while providing a complete line of specialty chemicals, consumables and stainless steel couplings for membrane filtration and reverse osmosis systems.
Market Cap: $37
Enterprise Value/Rev: 0.9x
Rev Growth (1 year): 14%
Total Revenue (LTM): $51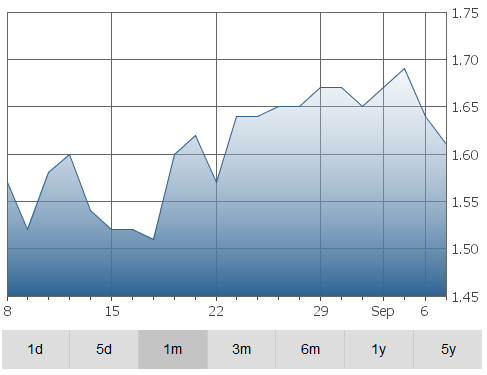 Orbit Garant Inc. (TSE:OGD) – $1.49
Mining Support Services & Equipment
Forage Orbit Garant Inc, also known as Orbit Garant Drilling Inc, is a Canada-based company engaged in the field of mining support services. The Company provides drilling services in Canada and abroad within mineral industry through all stages of mine development. Its customers range consists of senior, intermediate and junior mining companies. It owns a fleet of approximately 210 drill rigs, which provides surface and underground drilling services. It also offers geotechnical drilling services to mining and mineral exploration companies, engineering and environmental consulting firms, as well as government agencies.
Market Cap: $52
Enterprise Value/Rev: 0.6x
Rev Growth (1 year): 27%
Total Revenue (LTM): $97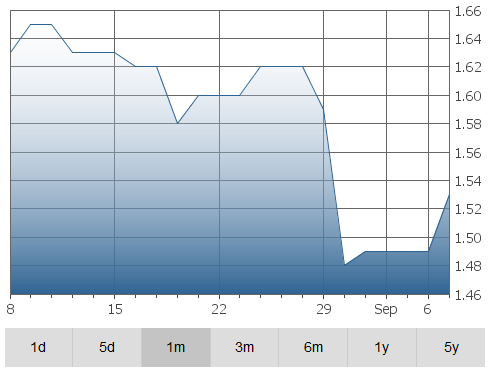 EXFO Inc. (TSE:EXF) – $4.52
Industrial Machinery & Equipment
EXFO Inc., formerly EXFO Electro-Optical Engineering Inc., designs, manufactures and markets test, service assurance and network visibility solutions for fixed and mobile network operators, Web-scale service providers, as well as equipment manufacturers in the global telecommunications industry. The Company focuses on network infrastructures, including fourth generation (4G)/long-term evolution (LTE), wireless backhaul, small cells and distributed antenna systems (DAS), 100G network upgrades and fiber-to-the-home (FTTH)/fiber-to-the-curb (FTTC)/fiber-to-the-node (FTTN) deployments. It also offers service assurance for next-generation Internet Protocol (IP) networks and into test equipment for second generation (2G) and third generation (3G).
Market Cap: $100
Enterprise Value/Rev: 0.1x
Rev Growth (1 year): 13%
Total Revenue (LTM): $300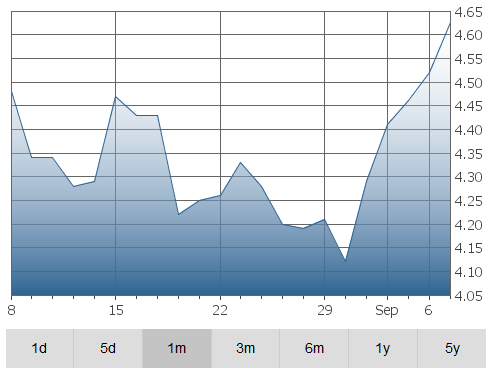 Firan Technology Group Corp. (TSE:FTG) – $2.80
Aerospace & Defense
Firan Technology Group Corporation (FTG) is a Canada-based supplier of aerospace and defense electronic products and subsystems. The Company operates through two segments: FTG Aerospace and FTG Circuits. The FTG Aerospace segment manufactures illuminated cockpit panels, keyboards, bezels, and sub-assemblies and assemblies for original equipment manufacturers (OEMs) of avionics products, as well as for airframe manufacturers around the world. These products are interactive devices that display information and contain buttons and switches that can be used to input signals into an avionics box or aircraft. The FTG Circuits segment is a manufacturer of technology printed circuit boards. It serves customers in aviation, defense and other technology industries.
Market Cap: $62
Enterprise Value/Rev: 0.9x
Rev Growth (1 year): 11%
Total Revenue (LTM): $74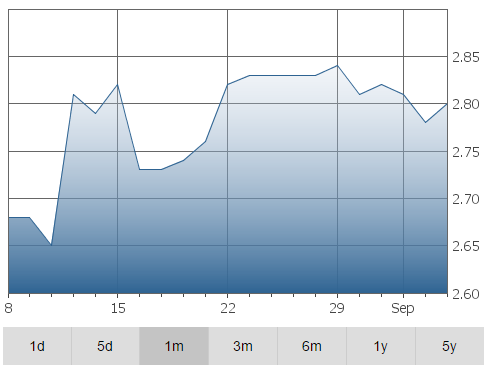 International Road Dynamics Inc. (TSE:IRD) – $2.42
Highways & Rail Tracks
International Road Dynamics Inc. (IRD) is a Canada-based company engaged in providing integrated systems and solutions for the Intelligent Transportation Systems (ITS) Industry. The Company's segment is engaged in design, hardware and software development, manufacturing and integration of products and systems for traffic flows. Its products include counters and classifiers, axle sensors and grout, IRD DYNAX Treadles, portable axle weighers, access control and security, software, traffic products, weigh-in-motion (WIM) controllers and WIM systems. It offers its products to government transportation agencies, traffic engineering companies, city and municipal agencies, concessionaires, public transit operators, industrial, mining, and service companies.
Market Cap: $35
Enterprise Value/Rev: 0.6x
Rev Growth (1 year): 38%
Total Revenue (LTM): $65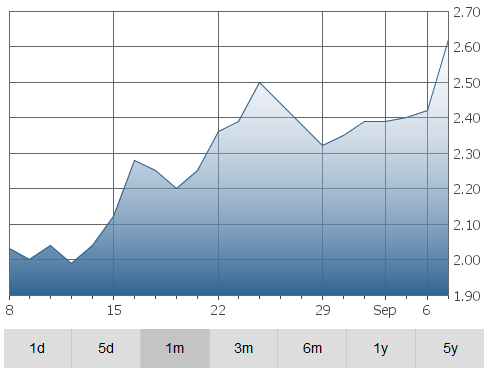 The Content contained on this page (including any facts, views, opinions, recommendations, description of, or references to, products or securities) made available by SmallCapPower/Ubika Research is for information purposes only and is not tailored to the needs or circumstances of any particular person. Any mention of a particular security is merely a general discussion of the merits and risks associated there with and is not to be used or construed as an offer to sell, a solicitation of an offer to buy, or an endorsement, recommendation, or sponsorship of any entity or security by SmallCapPower/Ubika Research. The Reader should apply his/her own judgment in making any use of any Content, including, without limitation, the use of any information contained therein as the basis for any conclusions. The Reader bears responsibility for his/her own investment research and decisions. Before making any investment decision, it is strongly recommended that you seek outside advice from a qualified investment advisor. SmallCapPower/Ubika Research does not provide or guarantee any financial, legal, tax, or accounting advice or advice regarding the suitability, profitability, or potential value of any particular investment, security, or information source. Ubika and/or its affiliates and/or their respective officers, directors or employees may from time to time acquire, hold or sell securities and/or commodities and/or commodity futures contracts in certain underlying companies mentioned in this site and which may also be clients of Ubika's affiliates. In such instances, Ubika and/or its affiliates and/or their respective officers, directors or employees will use all reasonable efforts to avoid engaging in activities that would lead to conflicts of interest and Ubika and/or its affiliates will use all reasonable efforts to comply with conflicts of interest disclosures and regulations to minimize the conflict.