Crumbling infrastructure represents opportunity for select companies
SmallCapPower | August 19, 2016: With North American infrastructure spending booming on all fronts, we believe industrial plays will gain momentum in the years to come. Today we have identified four industrial stocks well positioned to take advantage of this infrastructure spend.

Aecon Group Inc. (TSE:ARE) – $19.02
Construction & Engineering
Aecon Group Inc. is a construction and infrastructure development company. The Company operates through four segments: Infrastructure, Energy, Mining and Concessions. The Infrastructure segment includes all aspects of the construction of both public and private infrastructure in Canada, and on a selected basis, internationally. The Energy segment encompasses a suite of service offerings to the energy sector, including industrial, construction and manufacturing activities, such as in-plant construction, site construction and module assembly. The Mining segment offers services consolidating its mining capabilities and services across Canada, including both mine site installations and contract mining. The Concessions segment includes development, financing, construction and operation of infrastructure projects by way of build-operate-transfer, build-own-operate-transfer and other public-private partnership contract structures.
Market Cap: 1,091,212,834
Revenues: 3,279,264,000
Operating Income: 137,030,000
Debt: 373,924,000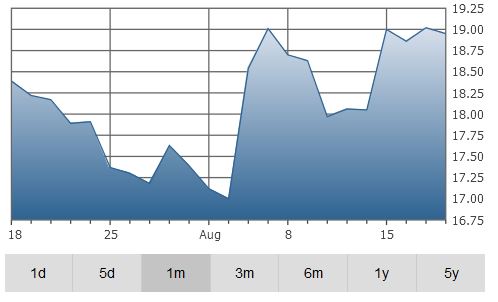 Badger Daylighting Ltd. (TSE:BAD) – $26.55
Construction & Engineering
Badger Daylighting Ltd. (Badger) is a provider of non-destructive excavating services. The Company works for contractors and facility owners in the utility and petroleum industries. The Company operates in three divisions: rents and sells various lines of trench shielding used to shore and strengthen trenches dug for a range of purposes; provides sewer inspection services and limited sewer flush services, and provides general vacuum truck and auxiliary services to the oil and gas industry, focusing primarily on production tank cleaning and removal of waste oil and sand. Badger's technology, Badger Hydrovac, is used for digging in congested grounds and challenging conditions.
Market Cap: 985,023,081
Revenues: 392,633,000
Operating Income: 62,670,000
Debt: 97,567,000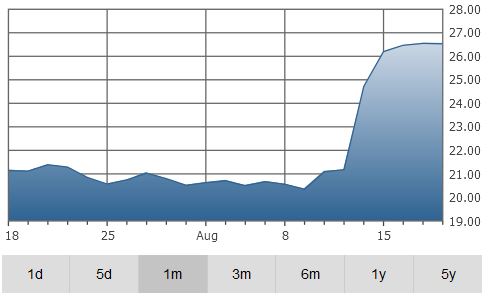 Bird Construction Inc. (TSE:BDT) – $11.03
Construction & Engineering
Bird Construction Inc. operates as a general contractor in the Canadian construction market. The Company focuses on projects in the industrial, commercial and institutional sectors of the general contracting industry.
Market Cap: 215,285,203.21
Revenues: 1,554,810,000
Operating Income: 32,705,000
Debt: 13,775,000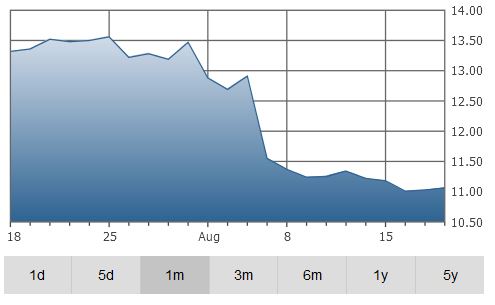 Stuart Olson Inc. (TSE:SOX) – $6.22
Construction & Engineering
Stuart Olson Inc. is a Canada-based construction and industrial services company. The Company's segments include General Contracting, Commercial Systems, Industrial Services, and Corporate and Other. The General Contracting segment, through the Buildings Group, provides general contracting services, including integrated project delivery, construction management and design-build services. The Commercial Systems segment includes Canem, which designs, builds, maintains and services critical building systems, including electrical and life safety systems, voice, data and communications networks, and security infrastructure. The Industrial Services segment offers various industrial construction and maintenance services.
Market Cap: 114,570,744.63
Revenues: 1,035,000,000
Operating Income: 13,843,000
Debt: 125,828,000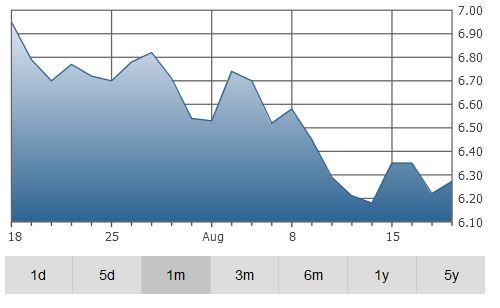 The Content contained on this page (including any facts, views, opinions, recommendations, description of, or references to, products or securities) made available by SmallCapPower/Ubika Research is for information purposes only and is not tailored to the needs or circumstances of any particular person. Any mention of a particular security is merely a general discussion of the merits and risks associated there with and is not to be used or construed as an offer to sell, a solicitation of an offer to buy, or an endorsement, recommendation, or sponsorship of any entity or security by SmallCapPower/Ubika Research. The Reader should apply his/her own judgment in making any use of any Content, including, without limitation, the use of any information contained therein as the basis for any conclusions. The Reader bears responsibility for his/her own investment research and decisions. Before making any investment decision, it is strongly recommended that you seek outside advice from a qualified investment advisor. SmallCapPower/Ubika Research does not provide or guarantee any financial, legal, tax, or accounting advice or advice regarding the suitability, profitability, or potential value of any particular investment, security, or information source. Ubika and/or its affiliates and/or their respective officers, directors or employees may from time to time acquire, hold or sell securities and/or commodities and/or commodity futures contracts in certain underlying companies mentioned in this site and which may also be clients of Ubika's affiliates. In such instances, Ubika and/or its affiliates and/or their respective officers, directors or employees will use all reasonable efforts to avoid engaging in activities that would lead to conflicts of interest and Ubika and/or its affiliates will use all reasonable efforts to comply with conflicts of interest disclosures and regulations to minimize the conflict.