The gold stocks on our list have positive revenues and current ratios above 6
SmallCapPower | July 29, 2016: By looking at positive revenues, investors know the stocks have economic mines operating. In addition, financial health should be noted in the gold stocks on our list from their relatively high working capital ratios.

Alacer Gold Corp. (TSE:ASR) – $3.30
Gold
Alacer Gold Corp. (Alacer) is an intermediate gold mining company that operates in the segment of mining, development and exploration of mineral deposits in Turkey. The Company has an interest in the Copler Gold Mine in Turkey. Its prospects include Yakuplu Southeast prospect, Yakuplu East prospect, Yakuplu North prospect, Bayramdere prospect and Dursunbey project.
Market Cap: 963,401,013
Revenues: 248,830,599
Operating Income: 23,534,603
Current Ratio: 13.4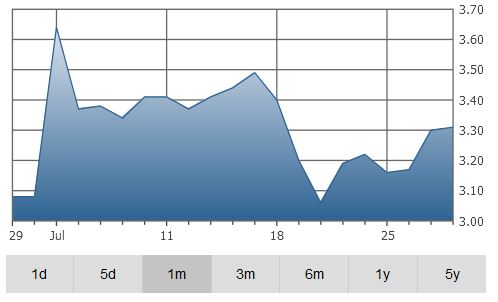 Sandstorm Gold Ltd. (TSE:SSL) – $7.05
Gold
Sandstorm Gold Ltd. is engaged in providing financing alternatives to mining companies. The Company focuses on acquiring gold and other precious metal purchase agreements (Gold Streams or Silver Streams), and royalties from companies that have advanced stage development projects or operating mines. It operates in the segments of Bachelor Lake, Black Fox, Santa Elena, Yamana Silver Stream, Chapada, Diavik Mine, Other Royalties, Other and Corporate. It has over 131 Gold Streams and net smelter returns royalties (NSRs), of which 20 of the underlying mines are producing.
Market Cap: 215,285,203.21
Revenues: 66,415,206
Operating Income: -32,014,701
Current Ratio: 7.0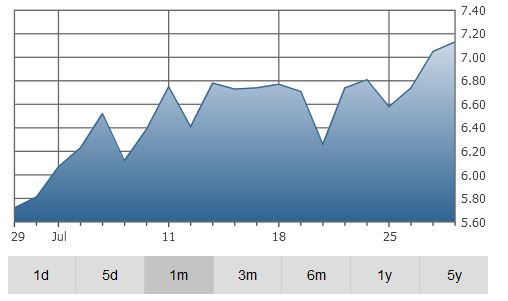 Argonaut Gold Inc. (TSE:AR) – $3.42
Gold
Argonaut Gold Inc. is engaged in gold mining, mine development and mineral exploration activities at gold-bearing mineral properties in North America. The Company's segments are El Castillo, La Colorada, San Antonio, Magino, and Corporate and other. It owns the producing El Castillo mine in the State of Durango, Mexico; the producing La Colorada mine in the State of Sonora, Mexico; the advanced exploration-stage San Antonio property in the State of Baja California Sur, Mexico; the advanced exploration-stage Magino property in the Province of Ontario, Canada; the advanced exploration-stage San Agustin property located approximately 10 kilometers from the El Castillo mine in the State of Durango, Mexico, and various other exploration stage projects, all of which are located in North America.
Market Cap: 114,570,744.63
Revenues: 187,298,379
Operating Income: -347,268,440
Current Ratio: 6.2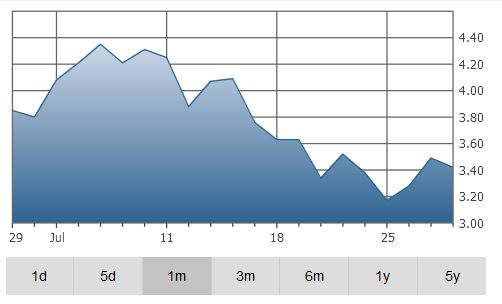 Monument Mining Ltd. (CVE:MMY) – $0.145
Gold
Monument Mining Limited is a Canada-based gold production and mining asset development company. The Company owns and operates Selinsing Gold Mine, and has a gold portfolio of the Selinsing, Buffalo Reef and Famehub projects in Pahang State within the Central Gold Belt of Western Malaysia, and the Murchison and Tuckanarra Gold Projects in Western Australia. It also owns Mengapur Polymetallic Project in Pahang State, Malaysia.
Market Cap: 46,797,663
Revenues: 37,698,551
Operating Income: 8,483,643
Current Ratio: 6.0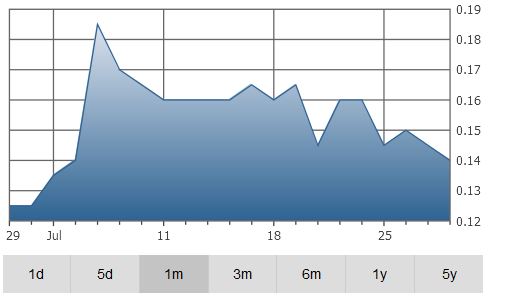 DISCLAIMER
The Content contained on this page (including any facts, views, opinions, recommendations, description of, or references to, products or securities) made available by SmallCapPower/Ubika Research is for information purposes only and is not tailored to the needs or circumstances of any particular person. Any mention of a particular security is merely a general discussion of the merits and risks associated there with and is not to be used or construed as an offer to sell, a solicitation of an offer to buy, or an endorsement, recommendation, or sponsorship of any entity or security by SmallCapPower/Ubika Research. The Reader should apply his/her own judgment in making any use of any Content, including, without limitation, the use of any information contained therein as the basis for any conclusions. The Reader bears responsibility for his/her own investment research and decisions. Before making any investment decision, it is strongly recommended that you seek outside advice from a qualified investment advisor. SmallCapPower/Ubika Research does not provide or guarantee any financial, legal, tax, or accounting advice or advice regarding the suitability, profitability, or potential value of any particular investment, security, or information source. Ubika and/or its affiliates and/or their respective officers, directors or employees may from time to time acquire, hold or sell securities and/or commodities and/or commodity futures contracts in certain underlying companies mentioned in this site and which may also be clients of Ubika's affiliates. In such instances, Ubika and/or its affiliates and/or their respective officers, directors or employees will use all reasonable efforts to avoid engaging in activities that would lead to conflicts of interest and Ubika and/or its affiliates will use all reasonable efforts to comply with conflicts of interest disclosures and regulations to minimize the conflict.