Flat revenue growth could push the companies on our list to look outside the country
SmallCapPower | October 12, 2016: If you are the type of investor who likes to look for growth opportunities, the new agreement that the Alibaba Group (NYSE:BABA), the world's largest online retailer, and the Canadian government have created could be one to consider. In Canada, companies are quite resistant to opening up sales overseas due to factors such as currency risk, the value of one currency devaluing in relation to another which can create a loss, according to a report by Aimia, a marketing and loyalty analytics company. However, the main goal of public companies is to increase shareholder value and with a slowly growing economy here in North America, looking overseas to the second largest market in the world is a good place to start and doing so will be made easier by this agreement. Increasing a company's value can come from growing revenues, which will hopefully add more to the bottom line. The companies on our list today have experienced relatively flat revenue growth over the past 12 months, and with manageable amounts of debt could benefit from expanding their sales bases through this new agreement.
Wi-LAN Inc. (TSE:WIN) – $2.01
Communications & Networking
Wi-LAN Inc. is a patent licensing company, which focuses on intellectual property, and manages and licenses the patent portfolios of various companies. It operates in a range of markets, including automotive, digital television, Internet, medical, semiconductor and wireless communication technologies. It develops and commercializes patented technologies, and licenses these inventions to various companies. It enables patent owners to sell or license patented intellectual property.
Market Cap: $242.89 (mm)
% Revenue Change LTM-1: 1.30%
Net Income before taxes LTM: $16.20 (mm)
Total Debt: LTM: $37.08 (mm)
Ten Peaks Coffee Company Inc. (TSE:TPK) – $7.37
Food Processing
Ten Peaks Coffee Company Inc. is a specialty coffee company that operates through two subsidiaries, Swiss Water Decaffeinated Coffee Company, Inc. (SWDCC) and Seaforth Supply Chain Solutions Inc. (Seaforth). SWDCC is a green coffee decaffeinator located in Burnaby, British Columbia. SWDCC employs the SWISS WATER Process to decaffeinate green coffee, which are sold to specialty roaster retailers, specialty coffee importers and commercial coffee roasters. SWDCC also sells coffees internationally through regional distributors.
Market Cap: $66.42 (mm)
% Revenue Change LTM-1: 2.66%
Net income before taxes LTM: $2.99 (mm)
Total Debt: LTM: $0.17 (mm)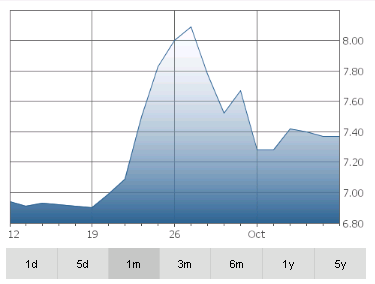 AirBoss of America Corp. (TSE:BOS) – $12.98
Tires & Rubber Products
AirBoss of America Corp. is engaged in the manufacture of rubber-based products for resource, military, automotive and industrial markets. It operates in three segments: Rubber Compounding, Engineered Products and Automotive. The Company, through its AirBoss Rubber Compounding division, is engaged in custom rubber compounding, supplying mixed rubber for use in mining, transportation, industrial rubber products, military, automotive, conveyor belting, and other products, mainly in North America.
Market Cap: $ 299.50 (mm)
% Revenue Change LTM-1: 4.47%
Net income before taxes LTM: $28.97 (mm)
Total Debt: LTM: $101.67 (mm)
PFB Corporation (TSE: PFB) – $8.77
Construction Supplies & Fixtures
PFB Corporation is engaged in manufacturing insulating building products made from expanded polystyrene (EPS) materials and marketing these products in North America. The Company operates through two segments: Canada and the United States of America (USA). The Canada segment is engaged in the manufacturing and sales operations located in Canada for EPS products and structural insulating panels. The USA segment is engaged in the manufacturing and sales operations located in the United States for EPS products, building systems and structures, design services and installations. The Company operates under the brands Plasti-Fab EPS Product Solutions; Advantage ICF System; Insulspan SIPS; DuroFoam; DuroSpan; Riverbend Timber Framing; Precision Craft Log & Timber Homes; M.T.N. Design; Total Home Solution; Point Zero, and TimberScape.
Market Cap: $58.90 (mm)
% Revenue Change LTM-1: 4.78%
Net income before taxes LTM: $6.75 (mm)
Total Debt: LTM: $14.34 (mm)
The Content contained on this page (including any facts, views, opinions, recommendations, description of, or references to, products or securities) made available by SmallCapPower/Ubika Research is for information purposes only and is not tailored to the needs or circumstances of any particular person. Any mention of a particular security is merely a general discussion of the merits and risks associated there with and is not to be used or construed as an offer to sell, a solicitation of an offer to buy, or an endorsement, recommendation, or sponsorship of any entity or security by SmallCapPower/Ubika Research. The Reader should apply his/her own judgment in making any use of any Content, including, without limitation, the use of any information contained therein as the basis for any conclusions. The Reader bears responsibility for his/her own investment research and decisions. Before making any investment decision, it is strongly recommended that you seek outside advice from a qualified investment advisor. SmallCapPower/Ubika Research does not provide or guarantee any financial, legal, tax, or accounting advice or advice regarding the suitability, profitability, or potential value of any particular investment, security, or information source. Ubika and/or its affiliates and/or their respective officers, directors or employees may from time to time acquire, hold or sell securities and/or commodities and/or commodity futures contracts in certain underlying companies mentioned in this site and which may also be clients of Ubika's affiliates. In such instances, Ubika and/or its affiliates and/or their respective officers, directors or employees will use all reasonable efforts to avoid engaging in activities that would lead to conflicts of interest and Ubika and/or its affiliates will use all reasonable efforts to comply with conflicts of interest disclosures and regulations to minimize the conflict.