The dividend-paying Canadian stocks we've filtered out are trading at attractive PE multiples
SmallCapPower | May 17, 2022: Price-to-earnings ratio (P/E ratio) is the ratio for valuing a company that measures its current share price relative to its earnings per share. Today we have found three dividend-paying Canadian stocks that are considered undervalued based on the fact that they have attractive PE ratios.
*Share price data and other metrics as of May 13, 2022

ONEX Corporation (TSX:ONEX) – $71.52
Private Equity
Onex is a private equity investor and asset management firm. The Company operates in two main segments: Investing, which includes private equity, private credit, and direct investments; and Asset and Wealth management, which manages pension plans, sovereign wealth funds, insurance companies, and family offices. Investing revenue comes primarily from net gains on corporate investments and CLOs (collateralized loan investments). Asset and Wealth Management revenue comes primarily from management and performance fees. Most of the Company's revenue is generated through the investing segment.
Market Cap: $6,370.2M
7-Day Return:  -4.4%
30-Day Return: -7.7%
30-Day Average Trading Volume: 151,732
P/E: 3.7x
P/B: 0.6x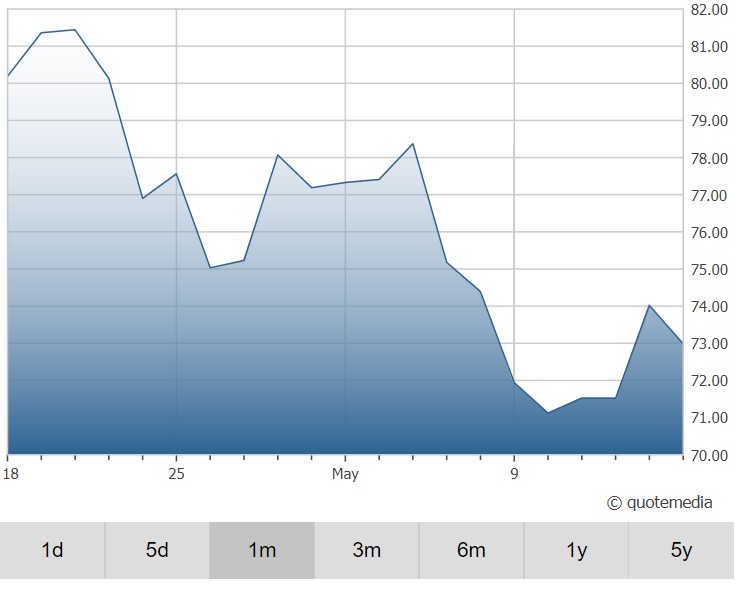 Quebecor, Inc. (TSX:QBR.B) – $26.36
Media & Telecom
Canopy Growth engages in the production, distribution, and sale of cannabis and hemp-based products for recreational and medical purposes primarily in Canada, the United States, and Germany. It operates through two segments: Global Cannabis and Other Consumer Products. The Company's products include dried cannabis flowers, oils and concentrates, and softgel capsules. It offers its products under the Tweed, Quatreau, Deep Space, Spectrum Therapeutics, First & Free, TWD, This Works, BioSteel, DNA Genetics CraftGrow, Tokyo Smoke, DOJA, Van der Pop, and Bean & Bud brands. The Company also provides growth capital and a strategic support platform that pursues investment opportunities in the global cannabis sector.
Market Cap: $4,993.7M
7-Day Return:  -6.4%
30-Day Return: -14.7%
30-Day Average Trading Volume: 763,190
P/E: 12.9x
P/B: 5.6x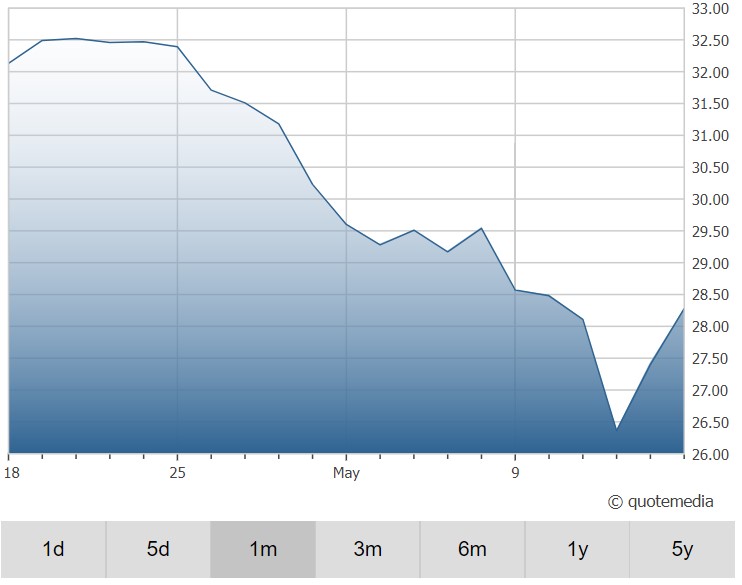 Canadian Tire Corporation Limited Class A (TSX:CTC.A) – $174.54
Retail
Canadian Tire sells home goods, sporting equipment, apparel, footwear, automotive parts and accessories, and vehicle fuel through a roughly 1,710-store network of company, dealer, and franchisee-operated locations across Canada. Aside from the namesake banner, stores operate primarily under the Mark's, SportChek, Party City, Atmosphere, and PartSource monikers. The Company acquired Helly Hansen, a Norwegian sportswear and workwear brand, in 2018. The firm also operates and holds majority ownership of a financing arm (Canadian Tire Financial Services; 20% owned by Scotiabank) and a REIT (CT REIT; Canadian Tire owns about 70%).
Market Cap: $11,286.5M
7-Day Return:  1.8%
30-Day Return: -5.6%
30-Day Average Trading Volume: 239,957
P/E: 9.2x
P/B: 2.0x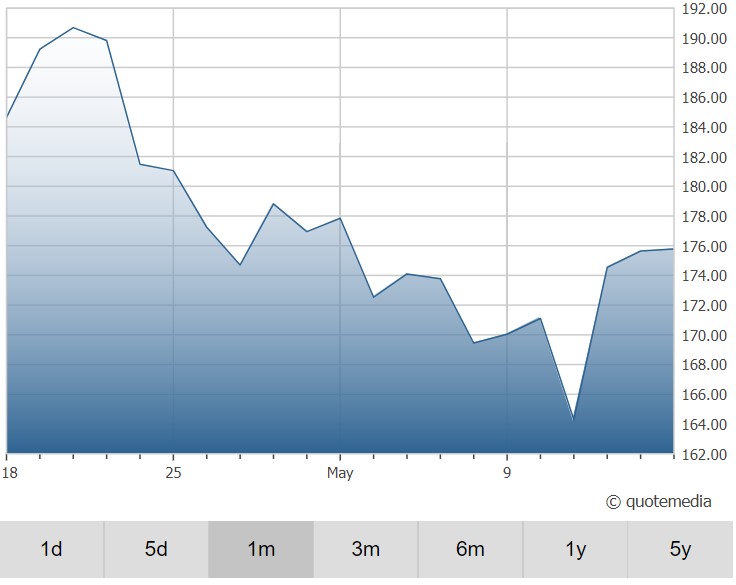 To read our full disclosure, please click on the button below:
The Content contained on this page (including any facts, views, opinions, recommendations, description of, or references to, products or securities) made available by SmallCapPower/Ubika Research is for information purposes only and is not tailored to the needs or circumstances of any particular person. Any mention of a particular security is merely a general discussion of the merits and risks associated there with and is not to be used or construed as an offer to sell, a solicitation of an offer to buy, or an endorsement, recommendation, or sponsorship of any entity or security by SmallCapPower/Ubika Research. The Reader should apply his/her own judgment in making any use of any Content, including, without limitation, the use of any information contained therein as the basis for any conclusions. The Reader bears responsibility for his/her own investment research and decisions. Before making any investment decision, it is strongly recommended that you seek outside advice from a qualified investment advisor. SmallCapPower/Ubika Research does not provide or guarantee any financial, legal, tax, or accounting advice or advice regarding the suitability, profitability, or potential value of any particular investment, security, or information source. Ubika and/or its affiliates and/or their respective officers, directors or employees may from time to time acquire, hold or sell securities and/or commodities and/or commodity futures contracts in certain underlying companies mentioned in this site and which may also be clients of Ubika's affiliates. In such instances, Ubika and/or its affiliates and/or their respective officers, directors or employees will use all reasonable efforts to avoid engaging in activities that would lead to conflicts of interest and Ubika and/or its affiliates will use all reasonable efforts to comply with conflicts of interest disclosures and regulations to minimize the conflict.